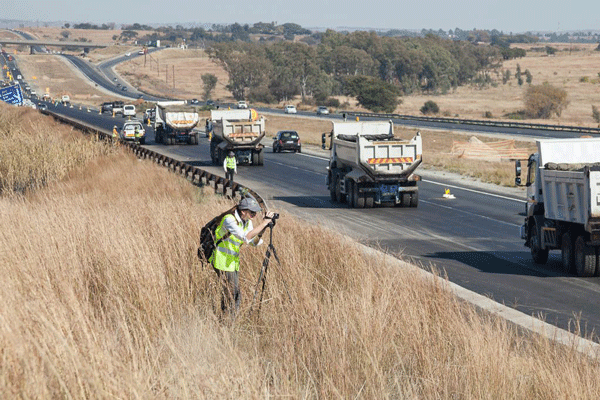 Gauteng MEC for Roads and Transport, Dr Ismail Vadi has officially opened the upgraded N14 freeway from Krugersdorp to Diepsloot.
The R306-million, 18-month-long project, launched in July 2015 together with Gauteng Premier David Makhura, was completed on time and within budget.
The MEC explained that Phase 1 of the N14 project entailed the rehabilitation of 20km of the dual carriageway starting from Hendrik Potgieter Drive and extending up to Diepsloot near Centurion, in Tshwane.
"We've basically given a new lease of life to a very busy freeway and there will be no toll fees," said Vadi.
The N14 is a high traffic volume freeway that was under severe stress. It had an annual traffic growth rate of 3.2 %. It had degraded over the years and needed urgent rehabilitation.
It is a major provincial arterial road from the southern and western regions of Gauteng to the north and is used for workplace travelling and freight traffic. It also serves as an economic link to the Western corridor of the province.
MEC Vadi pointed out that the freeway links Lanseria Airport, the Cradle of Humankind and North West Province and is expected, in future, to play an important role in kick-starting the development of a new city around Lanseria Airport.
"This project has completely repaired 20kms of N14 and given it a new design life of 20 years. It provided employment and skills development training during construction to over 300 local employees; enabled economic empowerment of local contractors and improved the road safety features on the freeway," added Vadi.
He thanked motorists for their patience during the construction period and announced Phase 2 of the upgrade will be launched in 2017.
Gauteng Roads and Transport annual report
During the 2015/16 Gauteng Roads and Transport annual report announcement, Vadi spoke on how the department remains focused on achieving "an integrated and efficient transport system in Gauteng that promotes sustainable economic growth, skills development and job creation, fosters quality of life, socially includes all communities and preserves the environment".
Vadi said: "Urbanization and urban densification help to provide a transport solution as it reduces the home to work trips over long distances. All sectors of our economy and our people at large benefit when there is an integrated approach to spatial and transport planning. Essentially, what we're talking about is creating smart cities in the Gauteng city-region that are supported by good public transport systems. Simultaneously, we have to keep our feet firmly on the ground to meet the commitments made in our Annual Performance Plan.
"We are pleased to report that Gautrain received a clean audit, and both the Department and g-Fleet achieved unqualified audit opinions from the Auditor-General. We are encouraged by the progress made in getting the financial statements of gFleeT on the proper footing. Our challenge now is to sustain the progress made at the entity and to ensure that the department gains a clean audit."