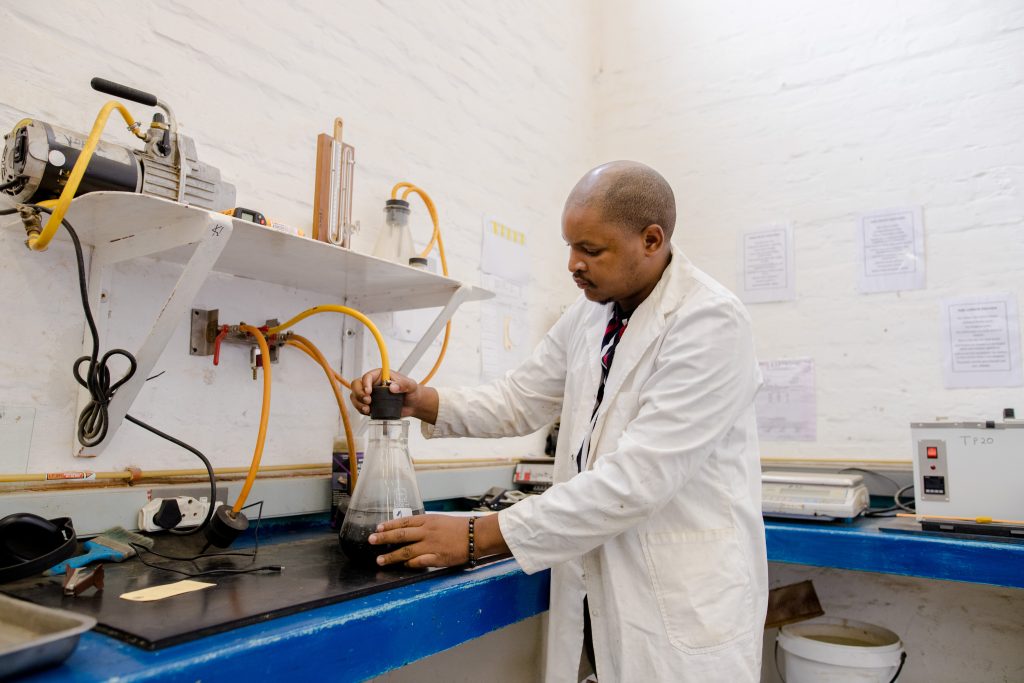 Candidate engineering practitioners who attend SANRAL's Technical Excellence Academy (TEA) receive materials training over three months at the laboratory in Struandale, Gqeberha. They also spend 21 months at the design academy and gain on-site construction work experience.
In 2020 three interns in the Engineers Representative on Targeted Enterprises (ERTE) programme received lab training. ERTE is a sub-division of the South African Pioneers of Transformation (SAPOT).
Kobus van der Walt, now retired Head of the TEA, said it was "excellent that the SAPOT interns received lab training. This is a great training place for them and SANRAL candidates to learn about materials used in road construction".
Early childhood friends Ulrich Witbooi and Devon Anyster graduated in 2017 from the Cape Peninsula University of Technology in Belville with BTech degrees in Civil Engineering. Both are from Worcester, and before joining the materials training laboratory they worked at the TEA's design academy, doing resurfacing investigation and design for the N2 Tsitsikamma Toll Road.
While at the lab, Witbooi and Anyster assessed and interpreted materials test results. They also gained knowledge of quality control, specifications, and construction techniques.
Anyster's goal is to register as a professional engineering technologist. He also wants to further his education and obtain a Master's degree in Engineering. Both of his parents are high school teachers.
His interest in civil engineering started in high school. "I enjoy what I do. Civil engineering is a challenging industry. So far, I have been very involved in SANRAL projects. The duration at the lab has been very informative. We can improve people's quality of life through an innovative road network. This industry continues to inspire," he said.
Witbooi is the first in his family to study civil engineering. "From a young age, I was intrigued by and interested in heavy machinery that builds something unique. Witnessing the use of heavy machinery building something amazing was the reason I ended up pursuing a career in civil engineering," he said.
He has gained experience working as an assistant resident engineer and on numerous projects, including pavement layers, mass stabilised earth retaining walls, and culverts.
"I am inspired to make a difference in the lives of others. I want to inspire youth in the communities and inform them that anything is possible if you apply your mind," he added.
In addition to the TEA candidates, ERTE interns also spend three months at the lab. They are among the civil engineering graduates who have been seconded on SANRAL projects since 2017 under the Southern Region. The project-based programme works with such graduates who have completed their Technical and Vocational Education and Training (TVET) institution studies.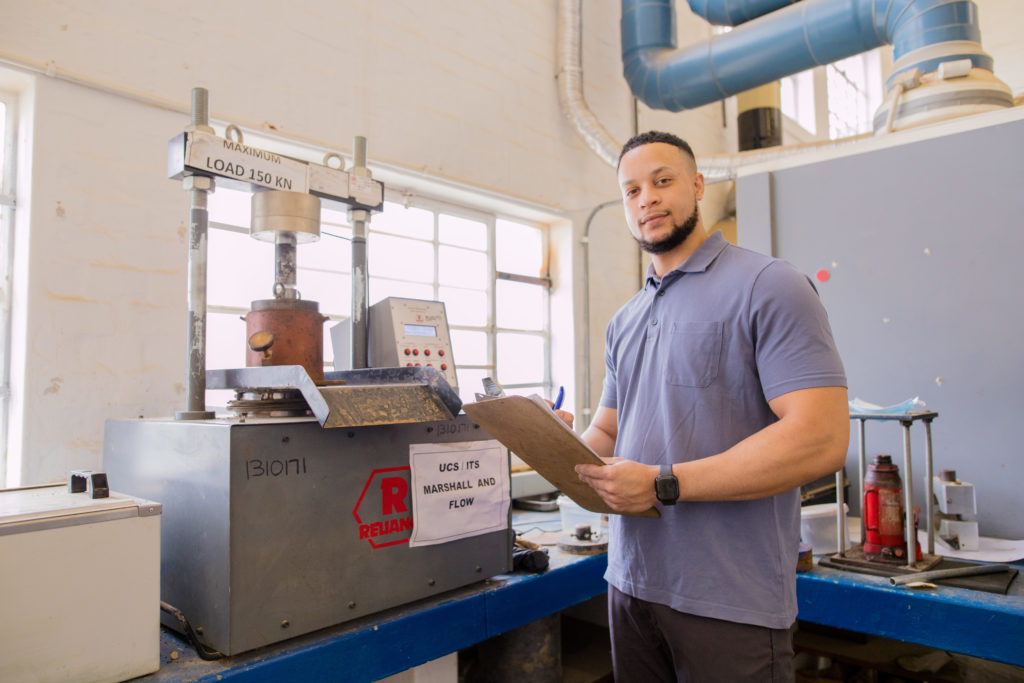 Devon Anyster measuring the effect of wet and dry cycles on clay that is used in road layers.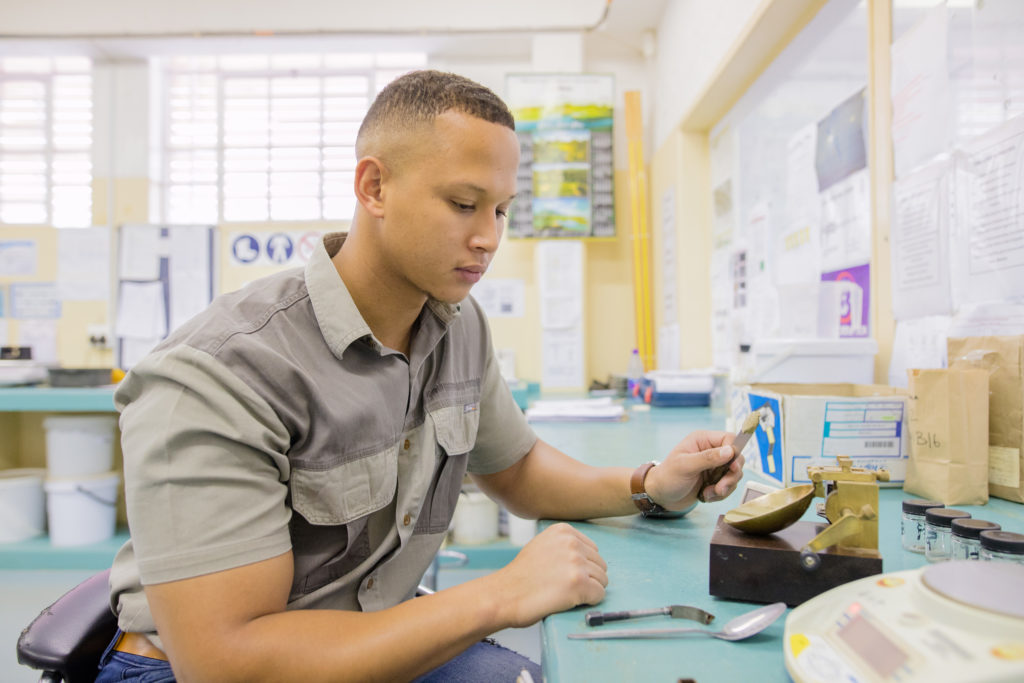 Ulrich Witbooi determining the strength of sub-base and sub-grade materials.
Vuyiswa Novukela, a civil engineering college intern on SANRAL's Southern Region internship programme, is on a two-year contract. She completed her education at King Hintsa TVET College in Butterworth.
Apart from spending time in the lab, she gained on-site experience on the R58 section 6 in Elliott working on erecting road signs, the R61 section 3 in Tarkastad where she did layer works for intersections, as well as stone pitching and drainage in Komani. Having sampled materials on site from the R62 section 7 between Joubertina and Kareedouw, she said she had learned about different road layers.
In 2021 she will work on the R56 project between Middelburg and Molteno.
"My family is proud of me. Education is important. It is going to urge me to take care of myself and not to depend on other people," said Novukela.
Yonela Diliza from Mthatha is also a recent ERTE programme graduate and has gained field experience on SANRAL projects. This included the planning of road signs and drainage systems, as well as administrative work and quantity surveying, cold in situ recycling lab tests on the R391 project, and erecting guardrails working with SMMEs in Burgersdorp.
"While we were erecting the guardrails in Burgersdorp the SMMEs were tough on us. We had to dig holes, and it was hard work. However, I am glad I got to experience this type of work. Now I know about the hard labour that goes into putting up guardrails," she said.
A new intake of candidates took place in February 2021.
Yonela Diliza busy with a sand equivalent test while being supervised by MCI assistant materials tester Siphelo Saki.
The test is to determine  sand and clay in fine aggregate for manufacturing concrete products.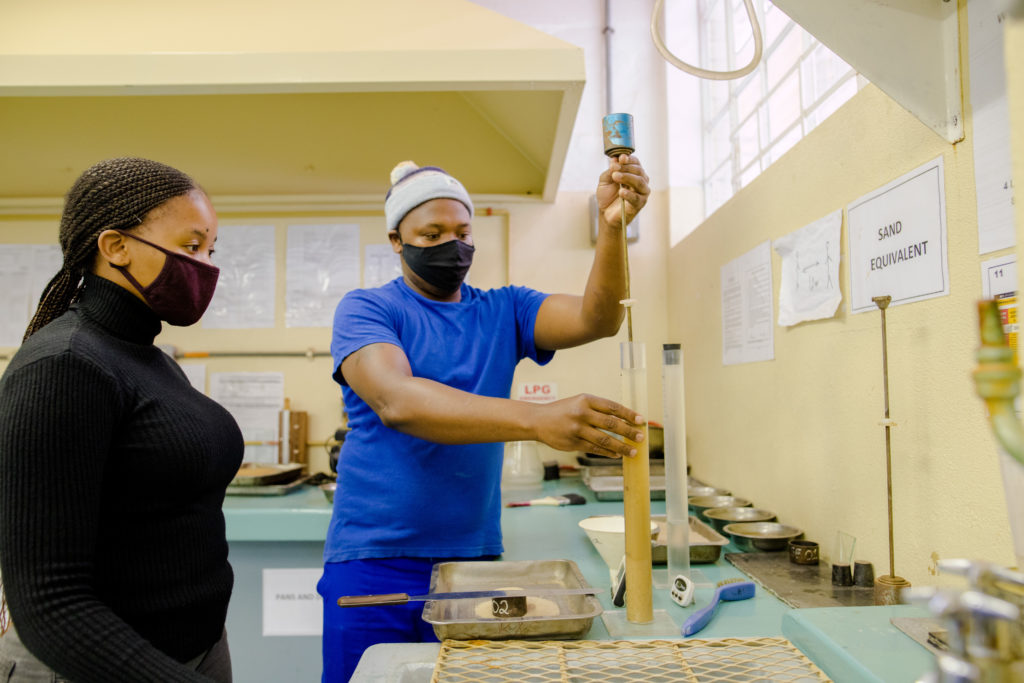 Lab manager Jeremy Dick supervises Vuyiswa Novukela while she determines moisture in a sample.