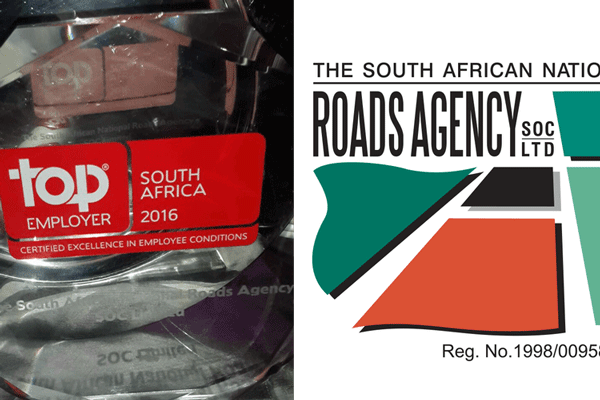 The South African National Roads Agency Limited (SANRAL) has been bestowed the honour of being a Top Employer for 2017 by the Top Employers Institute.
This was announced at a gala dinner in Pretoria on 13 October 2016. This makes it SANRAL's 7th Top Employer certification in the last decade.
At the event, 164 organisations spanning 32 countries representing 23 industry sectors were honoured and certified.
Heidi Harper, Corporate Services Executive at SANRAL, said: "The certification is a great achievement for the agency's commitment to adding value to their staff and ensuring employment equity at every level of the business.
"SANRAL believes that employees are at the core of what the agency achieves. We believe in creating a balanced workforce which embraces diversity, especially since we live in a multi-cultural and multi-racial country."
Top Employer seal of approval
As a certified Top Employer, SANRAL proudly wears the exclusive certification seal for an entire year. The seal is not only a recognisable symbol of the organisation's successful employee environment over the past 12 months, but also of its commitment to develop and become an even better employer.
The Top Employers Institute is a Netherlands based independent organisation which surveys employers and their employee conditions in South Africa and measures them against international standards.
Their certificate is only awarded to companies that achieve the best standards of excellence in employee conditions. To determine the winner, participating companies have to complete an international HR best practices survey. All results are independently audited to verify the standard of employee conditions.
Samantha Crous, Regional Director Africa Top Employers Institute, said: "Top employership is clearly more than good business practice, it is business leadership at its best."
SANRAL prides itself in proving exceptional employee conditions which are achieved partly through acquiring talented staff and then nurturing and developing them throughout all the levels of the organisation. The results of which are remarkable. For example, stats show that 95.4% of SANRAL employees are committed to their roles and 85.5% found their role enjoyable.
The roads agency also runs an effective occupational health and safety structure where trained safety officers ensure that safety is observed by all staff members. Through initiatives like the eKhaya Wellness Programme, SANRAL aims to enhance the employee and workplace effectiveness by encouraging the prevention, early identification and management of health conditions affecting employees and the resolution of personal issues.