The N2/N3 upgrade project will have enormous economic spin-offs for KwaZulu-Natal during construction.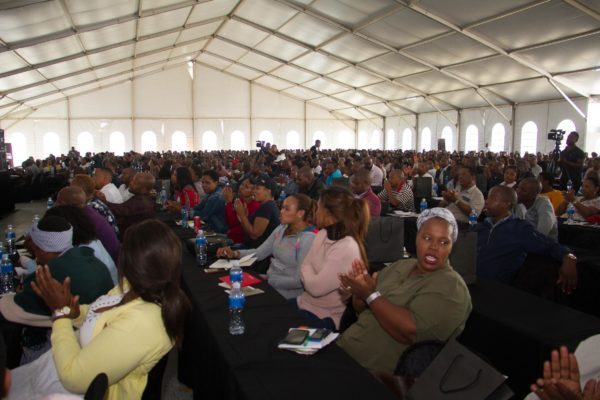 Thousands of entrepreneurs and job-seekers have attended stakeholder events hosted by the South African National Roads Agency (SOC) Limited (SANRAL) to share information on business and job opportunities available on the R30-billion N2/N3 upgrade project. 
Stakeholder consultative engagements have been held in Pietermaritzburg, Hammarsdale and Durban for small, medium and micro-sized enterprises (SMMEs) about contract opportunities, how to register with the Construction Industry Development Board and processes to follow when tendering. 
SMMEs also had access to an exhibition area where they could get information from the South African Forum of Civil Engineering Contractors, the National African Federation for the Building Industry, Ithala Business Finance and construction industry equipment companies such as Bell Equipment, Barloworld, Wirtgen and Pilot Crushtec. 
The Upgrades 
The N2/N3 upgrades will have enormous economic spin-offs for KwaZulu-Natal during construction.  
The N2/N3 Corridor is one of South Africa's key infrastructure development projects and its role in facilitating the movement of goods and people to the country's economic hubs cannot be downplayed. 
Dumisani Nkabinde, SANRAL Regional Manager in the Eastern Region, said: "The strategic intent of SANRAL is to help develop and grow black-owned small to medium-sized construction, engineering and related industry businesses. 
"It is estimated that a project of the magnitude of the N2/N3 upgrades will create approximately 15 000 job opportunities in KwaZulu-Natal. It is also envisaged that SMMEs will benefit enormously, allowing them to grow their businesses and create jobs. 
"SANRAL wants to share business and job opportunities and has also made a concerted effort to ensure that youth, women, the disabled and other designated groups benefit from its projects." 
The upgrade of the N2 will focus on a 55km stretch from Lovu River on the South Coast to Umdloti on the North Coast. The N3 upgrade will focus on an 80km section from Durban to Pietermaritzburg. 
These upgrades will include the widening of the N2 and N3 carriageways, with four to five lanes in each direction, and the reconfiguration of most major interchanges along these route sections. 
Due to the length and estimated cost of the entire N2 and N3 upgrades, the corridor will be split into several detailed design and construction packages. 
The upgrading is expected to take between five to eight years to complete, depending on funding availability. 
Strategic corridor  
Ravi Ronny, SANRAL Eastern Region Design, Planning and Construction Manager, said: "The N2/N3 upgrade is a strategic corridor that has the highest volume of traffic anywhere on the KwaZulu-Natal and Free State national roads network. 
"SANRAL has considered the current capacity and the future for expansion of the Durban port. Hence, the N2/N3 upgrades will cater for increased traffic volumes, especially heavy vehicles." 
Mxolisi Kaunda, the MEC for Transport, Community Safety and Liaison in KZN said there was a need for all parties to work together for South Africa to grow as a united country. 
"We are extremely pleased that SANRAL is investing billions of rands in KZN to upgrade road infrastructure, which will not only facilitate economic growth but will also enhance road safety. 
"Over and above this, business and job opportunities will be created for SMMEs and ordinary citizens," Kaunda said. 
Driving economic growth 
Ismail Essa, SANRAL's Transformation Manager, said SANRAL recognises the contribution it makes in building a capable and developmental state and driving economic growth through the provision and maintenance of critical infrastructure. 
This commitment, he said, is spelled out clearly in the agency's transformation strategy and its long-term strategy vision, Horizon 2030. 
"SANRAL's transformation policy sets clearly defined targets for the participation of black contractors, professionals and suppliers in all of its projects. 
"The transformation of the construction industry is long overdue and to respond to this, SANRAL undertakes to develop SMMEs and to introduce project liaison committees (PLCs) on its major projects," Essa said. 
On capital projects SANRAL will only do business with companies that are at least 51% black-owned and with a minimum B-BEE Level 2 rating. 
To give small contractors access to earthmoving machinery to allow them to participate more meaningfully in major construction projects, SANRAL has signed a Memorandum of Understanding with construction machinery company Bell Equipment. 
Themba Mhambi, SANRAL Board Chairperson, said South Africa faced economic challenges which could only be addressed under a leadership "that is visionary and dreams big". 
"SANRAL has convened these information-sharing sessions to create a platform for KZN communities to voice their concerns and comments on job creation, tendering and skills development. 
"SANRAL will make sure that revenue from these billion-rand projects provides business opportunities to local SMMEs." 
Access to equipment 
Ryan Britain, Regional General Manager at Bell Equipment, said: "Access to sophisticated and more advanced equipment used in construction has been identified as one of the biggest hurdles that faces emerging contractors. 
"Emerging contractors often do not have the capital to buy the machinery used for excavations, ground moving and the grading of roads.  
"SANRAL's MOU with Bell Equipment will attract new entrants into the construction and engineering sectors, particularly black contractors, who will in turn grow their business and create jobs. 
"The cooperation between SANRAL and Bell Equipment is also expected to help to promote fair competition in the construction and engineering sectors." 
Pinetown resident Dumisani Mkhize, who is a director of Zasembo Construction & Trading, does civil work and said he welcomed the useful information about the numerous job opportunities that will be available, as well as being able to meet some of the SANRAL project managers. 
Durban's Sne Mwelase, who is the only bread winner in her family, was extremely grateful for the information session and the fact that SANRAL was offering SMMEs the opportunity to sub-contract with bigger companies. 
"We also had the opportunity to engage with some of SANRAL's MOU partners at the exhibition stands and obtain valuable information about accessing finance for equipment," said Mwelase. 
Durban resident, Nhlonipho Mbatha, who is currently unemployed, said the SMME workshop provided an opening for much-needed jobs. 
"I am eager to hear about the plans for the N2 and N3 upgrades as many jobs will be available," said Mbatha. 
Nompumelelo Nzuza, who owns Gabayithini Construction Pty Ltd and supplies food to many local schools in KZN, said the workshop gave SMMEs access to many job opportunities and to gain knowledge about the various training programmes offered to grow your business.