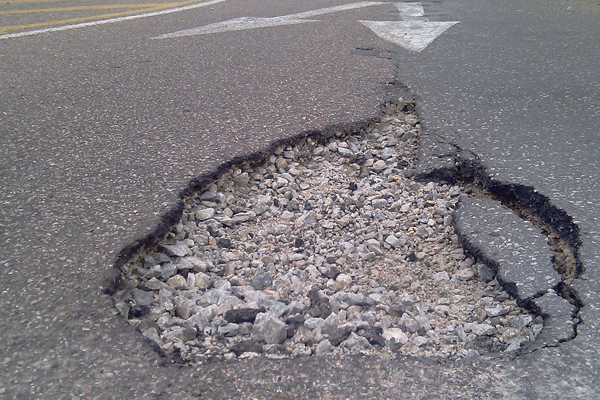 Many motorists have a story to tell about damage caused to vehicles from driving over a pothole, and the extra expense arising from repairs.
The South African National Roads Agency (SOC) Limited (SANRAL) has a dedicated team of experts that travel along every kilometre of the country's primary network, looking for any signs of pavement deterioration, especially potholes.
In the rare occasion that a pothole develops on the 22 203km road network, it is fixed within 48 hours.
Randall Cable, the engineering manager in SANRAL's Western Region, said: "We are keenly aware of the dangers potholes pose to motorists travelling at cruising speeds on the freeway.
"This is why we place such a strong emphasis on preventative maintenance, to ensure our roads remain in great shape throughout the year."
Drivers who hit a pothole at speeds in excess of 100km/h can easily lose control of their vehicles and cause serious crashes.
Divided sections
The 22 203km road network has been divided into 300km sections and teams move along it in one direction on alternate days, coming back on the same route.
During these journeys they conduct detailed inspections of the road surface, looking for tell-tale signs of a developing pothole. This task becomes especially important after heavy downpours, when the water might have damaged the asphalt.
The team also looks out for any other issue that might pose a hazard to road users, such as missing road signs or guardrails, debris left after a crash or a tyre burst, and the occasional dead animal.
Cable said: "The quicker you can identify a safety risk, the quicker you can make the correct intervention."
Whose responsibility?
Whenever SANRAL takes over the responsibility for a road previously managed by a province, the first step is always to start routine maintenance – clearing blocked storm-water pipes and culverts, cutting back vegetation, clearing litter and debris from the road reserves and fixing road signs and markings.
Potholes found on secondary roads are the responsibility of provincial, district and local authorities.
However SANRAL does and is always willing to share its research, knowledge and expertise with such agencies as part of its broader efforts to promote all aspects of road safety in South Africa.