The roads agency has over 150 projects lined up in different parts of the province for the next 3 financial years (2019/20, 2020/21 & 2021/22).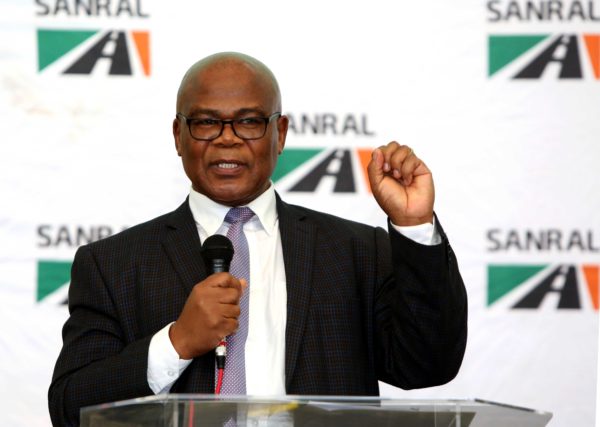 Nomfuneko Bojana Matshoba, owner of Mickey Mouse Trading, shared her journey with the South African National Roads Agency (SOC) Limited (SANRAL) during the Taking SANRAL to the People stakeholder engagement session held in Queenstown in late July 2019. 
"I have taken the lessons learnt in the classes provided by SANRAL and put them to practice on the job sites. I started as a Grade 1 CIDB SMME and today I am a Grade 5," said Bojana Matshoba. 
The Taking SANRAL to the People stakeholder engagement session is aimed at promoting dialogue between the road's agency, all spheres of government, business fraternity, communities, emerging contractors and other key stakeholders affected by SANRAL projects. 
Testament to SANRAL 
Bojana Matshoba said: "I have grabbed every opportunity SANRAL has given me with both hands. It was not easy. I had to meet the criteria before being accepted into the learnership training programme. I started as a general worker, trained to become a supervisor and was placed at a bigger contractor's site as an intern doing in–service training to be a competent supervisor.  
"I am now able to do everything myself, from quantifying my BOQ, daily site diaries, costing measurements, payment certificates, monitor quality control, cost and production daily and making sure I maintain my statutory obligation compliant at all times. I look forward to receiving my Grade 7 CIDB certification on the SANRAL sub-contract job that I am currently busy with. 
"I have invested in learning before earning because I know knowledge is power and it will make me succeed in the Civil Engineering industry and built environment." 
Eastern Cape  
SANRAL in the Eastern Cape manages a road network of 4 952km. This is 22% of its total 22 214km national road network. Since 2009, SANRAL has injected R33.3-billion into the Eastern Cape's road network. 
The roads agency has over 150 projects lined up in different parts of the province for the next three financial years (2019/20, 2020/21 & 2021/22). Some are in the planning phase, some in the design phase and some in the construction phase. 
The Southern Region's top 10 Capex projects (completed or ongoing) situated in the Chris Hani District Municipality include: 
The R67 from Swart Kei River to Queenstown

 in 

the 

Enoch Mgijima Local Municipality, valued at over R400 million 

and 

will commence in 2020.

 

The construction of walkways to address safe and all-weather pedestrian mobility, as well as the upgrading of the R56 traversing through the towns of Indwe, Elliot Ugie and Maclear, in 

the 

Emalahleni Local Municipality, valued at R635 million, has been completed.

 
Enoch Mgijima Local Municipality Mayor Luleka Gubhula, said they were "humbled" by SANRAL hosting the stakeholder engagement in their jurisdiction.  
"We are truly humbled that towards the close of Mandela Month, SANRAL hosted the leg of dialogue in Komani, a town strategically located at the centre of not only Enoch Mgijima, but the greater Chris Hani District," she said. 
"SANRAL leadership has faith in the potential that Komani and its surroundings has in the context of its Horizon 2030 Strategy. We, too, wish to emphasise our faith in our potential for growth and meaningful transformation. We do so because of the friendly N6 route that positions Komani at the centre of the road network of the Eastern Cape, connecting all provinces in South Africa and about six countries in the SADC region," said Mayor Gubhula. 
Maintenance  
SANRAL's mandate also entails performing Routine Road Maintenance (RRM) of the road network. In this regard, the agency maintains several routes within Chris Hani District Municipality. 
SANRAL's major road infrastructure delivery projects in the Chris Hani District include the upgrading of the R67 between Queenstown and Whittlesea, which has seen training of several candidate engineers, as well as skills development and transfer through Small, Medium and Micro Enterprise (SMME) development programmes. 
Part of the engagement was to inform stakeholders of ongoing projects and upcoming tenders. 
Mbulelo Peterson, SANRAL Southern Region Manager said, "SANRAL is committed to growing SMMEs in the road construction industry. It is important for us to support contractors from the beginning and provide them with the necessary training that will assist them when it comes to the tendering process as well." 
Peterson added that this engagement was also to share SANRAL's Horizon 2030 vision and transformation policy.   
"Through our transformation policy, we promote inclusive participation by all stakeholders, ensure skills training, and the transfer of knowledge and experience to small construction businesses," Peterson said.