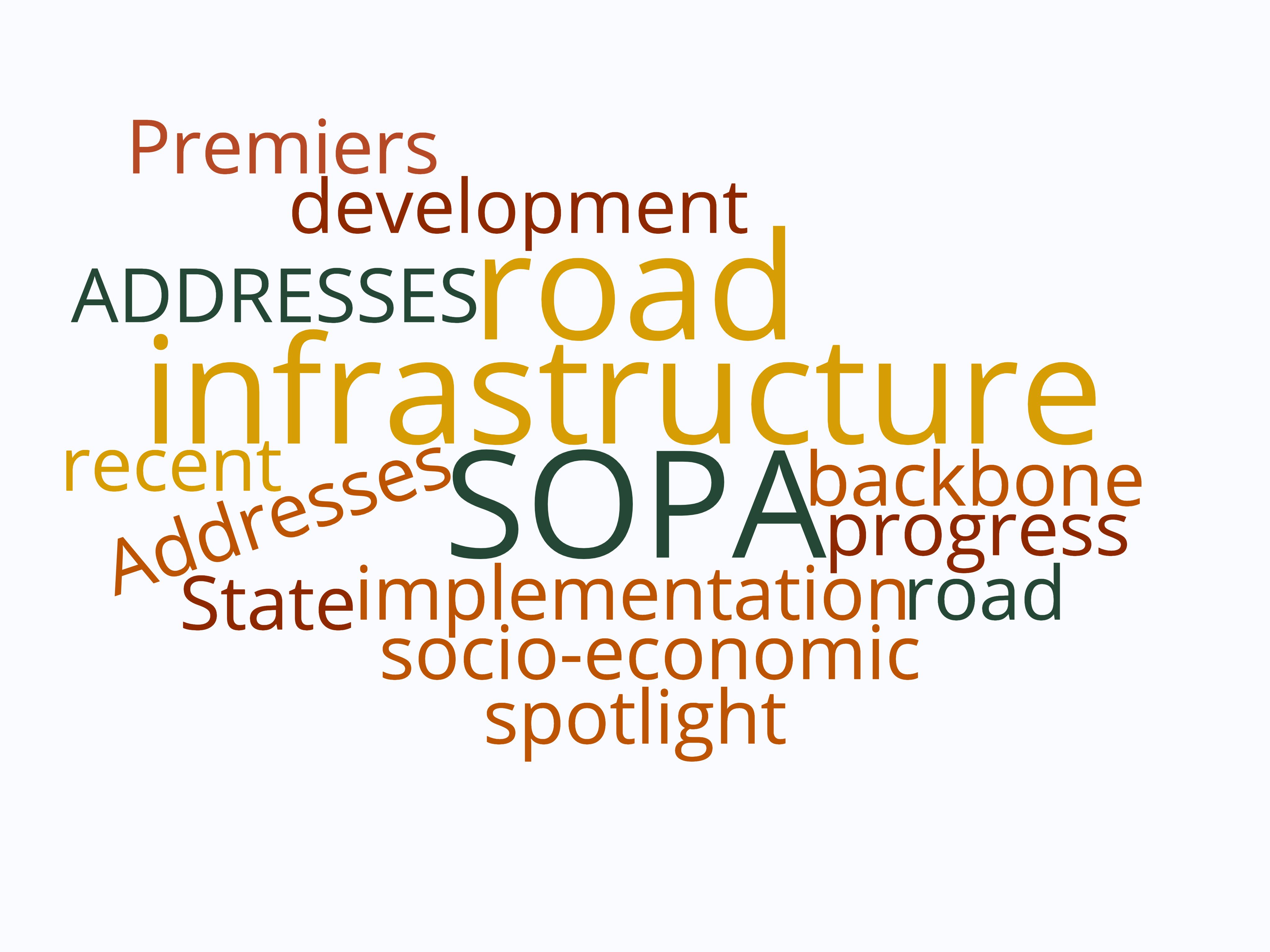 Quality road infrastructure is the backbone of socio-economic development. Most Premiers shone a spotlight on progress on implementation of road infrastructure projects by SANRAL in their recent State of the Province Addresses.
KwaZulu-Natal Premier Sihle Zikalala indicated that the first of R9bn of the R35bn N3/N2 upgrade project was on the cards in the short term and the balance by the end of 2020/2021. Stakeholder consultations were under way regarding building the lsandlwana Heritage Development, which will support tourism and drive economic development, while the N2 KwaDukuza project will resume.
The N8 Airport Road, Welkom and Wesselsbron Roads in Bultfontein, Cornelia Road in Villiers and Virginia Road in Meloding in the Free State were close to completion. Premier Sisi Ntombela said that 23 projects had been ongoing, with 5 set for completion in the 2020/21 financial year at a cost of R230m. "All this work has created job opportunities for the youth and women. It has also contributed in alleviating poverty and stimulating local economic development", she said.
SANRAL is rolling out multiple road infrastructure projects in 10 critical trade routes across the Eastern Cape. Premier Oscar Mabuyane reported as follows: "Through SANRAL, the National Department of Transport will inject R11.9bn in the next two years with R5.4bn targeted for projects from Kirkwood, Addo, Port Elizabeth to East London, from Aliwal North to Lady Grey and Barkley East. This year, we will also see the re-establishment of Site for R61 between Baziya and Mthatha Airport. I can also confirm that the long-awaited upgrade of the road between Alice and Fort Beaufort will start in May 2020."
There were 9 active contracts in partnership with SANRAL in the North West province, covering a road network totalling 2369 km. Premier Job Mokgoro said "We are in the process of procuring contractors for 14 new routine maintenance contracts which are packaged based on Local municipal boundaries. These projects will create opportunities for Local Emerging Contractors to bid for sub-contract work packages, such as pothole patching, fencing and grass cutting. The bid process for the sub-contracts will be overseen by area specific Public Liaison Committees to ensure local participation, fairness and transparency.
"Together with SANRAL, we are implementing three major road rehabilitation projects. We are upgrading the R511 from Brits to Beesterkraal, with a project value of R242m; the rehabilitation of the R53 from Potchefstroom to Ventersdorp, with a project value of R158m; and the N4 Pampoennek to R512, in Madibeng, with a project value of R407m. In the second quarter of 2020, as part of this collaborative partnership between us and SANRAL, we will be awarding three construction contracts for the reseal of the N12 between Wolmaranstad and Bloemhof, costing R120m."
Northern Cape Premier Dr Zamani Saul reported that SANRAL has committed more than R4bn to road maintenance and improvements in the province over the next 3 years, and that a large portion of this will go to small, medium and micro enterprises (SMMEs). Approximately R500m of this amount is specifically set aside for Routine Road Maintenance (RRM). He said "Between 40% and 60% of this value is specifically targeted at SMMEs, including approximately R50m for entry-level road maintenance subcontractors. Fifteen RRM projects are specifically being rolled out in the Northern Cape, which are expected to generate approximately 1500 jobs over the next 3 years. The restructuring of the RRM projects will enable contractors to embark on skills training and facilitate the development of subcontractors. Furthermore, the targeted enterprises will be assisted to institute a quality assurance system, with provision made for ongoing and adequate training, coaching, guidance and mentoring."