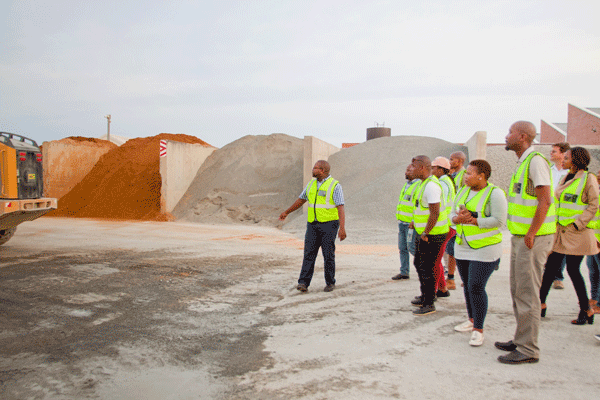 The South African National Roads Agency (SOC) Limited (SANRAL) has taken a group of SMMEs to learn about the administrative and business functions of the engineering and road construction industry.
The 11 SMMEs enrolled in SANRAL's community and training development programme for the N2 Wild Coast Toll Road (N2WCTR) visited Mamlambo Construction in East London.
Mbulelo Peterson, SANRAL Southern Region Manager, said: "SANRAL continuously provides training and support to SMMEs. We remain committed to promoting economic growth, stimulating the expansion of small and medium-sized businesses, reducing unemployment, and building a skilled workforce."
The SANRAL programmes are part of the community access road upgrading project for the N2 Wild Coast Highway in Alfred Nzo and OR Tambo District Municipalities.
The SANRAL integrated community development programme has 30 business owners of construction SMMEs and new start-ups (CIDB levels 1 – 3) presently enrolled on SAQA and SETA-accredited training programmes (NQF levels 3 -5) at three SANRAL learning centres in Mbizana, Lusikisiki and Port St. Johns.
The programme will also train an additional 330 individuals with civil engineering skills to help create a local skilled and semi-skilled labour force for the N2WCTR.
What the training entails
As part of their practical training, the business owners will be responsible for the upgrade and construction of community access roads. Upon completion of their theoretical training this year, each SMME will have an opportunity to tender for construction work on the community access roads. These road upgrades are strategic projects linked to the N2WCTR with the aim to improve road safety.
Mamlambo Construction is a SANRAL service provider and currently working on the Lusikisiki Community Development project for SANRAL. The project started in July 2016 and is expected to complete in July 2018.
The training at Mamlambo offices included:
How to form a bank account for a joint venture
CIDB requirements
The importance of registering for VAT
Paying tax, UIF and workman's compensation
The importance of using a bookkeeper or accountant
Getting the right insurance, and
Paying wages
The SMMEs were also taken on short tours of asphalt, bitumen binders and concrete manufacturing plants.
Craig Shearar, Mamlambo's CEO, said: "The goal of the day was to upskill, train and mentor emerging contractors. This project is very close to our hearts. We believe we need to be relevant in our community and participate where we can."
In Lusikisiki, Mamlambo is providing the 11 SMME owners with NQF Level 4 training and their 11 supervisors with NQF Level 2 training on road construction.
Shearar said: "We want the SMMEs to understand there is more to running a business than to just building a road. We want them to see how a business fits together. It is important to expose the SMMEs to as much as possible in our industry for them to know where the products come from.
"It is important for a business owner to know their industry intimately. This way they can grow and become sustainable."
What the owners thought of the programme
Sipelele Msindwana, co-owner of Nkungu Investments, said that while working on the SANRAL programme they have learned how to manage a business professionally.
"We now know how to follow the law in conducting our business. We've recently completed our theoretical training. Thereafter, [we] attended tendering workshops in preparation for contracts that will be awarded. The whole process has been useful, as it turns out we thought we knew a lot but we learned more about the processes that must be followed. This week we set out a 280m road aside for practical training. This road will be incorporated into the actual roads we will work on."
Wandile Mngeni owner of WM Construction Projects registered his company in 2015 and admits to not knowing about road construction.
"I have learned theoretically a lot about the paper work and calculations needed for the company," he said.
Lindiwe Nokele, owner of Gandundu Trading, said as an SMME she has grown through the "intensive training" provided.
"Our training focused on SARS, documentation, how to discipline staff and the importance of having a bookkeeper. As an SMME I now know a lot more [on] what to do."
Siyanda Mredlana owner of Khululaka Trading Enterprise said: "I have learnt a lot from this visit today. It is helpful to know what materials are used to build roads. I believe that the information provided during the training will help me win tenders."
Andiswa Joyi owner of Eyamanjilo Trading said the site visit to Mamlambo has given her a deeper insight into how a construction business operates.
"This was a valuable part of the training programme. Seeing how everything operates on site, has given me a deeper insight into how business works. I am passionate to become the next big contractor," Joyi said.