High School learners taught the importance of water conservation at the iGems Water challenge.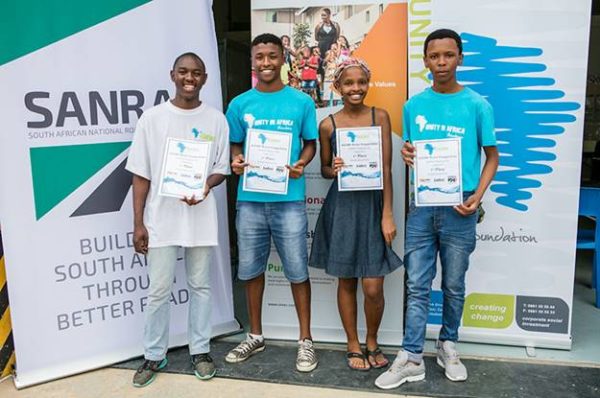 The South African National Roads Agency (SOC) Limited (SANRAL) supported 45 high school learners in Port Elizabeth at the iGEMS water engineering competition earlier this month. 
SANRAL in partnership with Labco, SMEC and the iGEMS programme, hosted the one-day competition at SANRAL's Regional Training Laboratory. 
Learners were taught practical civil engineering skills needed to plan, design, construct and operate a water distribution network.The competition created awareness regarding the importance of water conservation in South Africa. 
It exposed learners to the importance of team work and allowed them to come up with creative solutions to develop infrastructure to provide clean water. It combined the practical application of civil engineering with theoretical knowledge. 
SMEC Professional Technologist Tronel Strydom, who judged the water competition, said: "This competition taught the kids about water conservation and the importance of water in our communities. It is very important for the kids to learn the practical application of engineering." 
SANRAL Southern Region's Marketing and Communications Co-Ordinator Michelle Ah Shene said supporting the iGEMS Water competition shows SANRAL's commitment to the development of young, aspiring civil engineers. 
"SANRAL further promotes the importance of civil engineering through supporting projects like the Nelson Mandela University (NMU) School of Engineering STEM Pipeline Project, bursary and scholarships, and training civil engineering graduates in the SANRAL Southern Region Training Academy," Ah Shene said. 
This was the fourth annual iGEMS water competition and afforded learners who were unable to take part in the South African Institution of Civil Engineering (SAICE) Algoa Branch Aqualibrium Water competition with the opportunity to have their own competition during the holidays. 
Winner inspired to take up civil engineering  
The participating schools included Woolhope High School, Linkside High School, Sanctor Secondary School, Douglas Pienaar High School, Douglas Mbopa High School, Newton Technical High School and four other high schools, all from Port Elizabeth. 
The 11 competing teams, compromising of grade 11 and 12 learners, were tasked to design a model water distribution network to distribute three litres of water equally between three points on a grid using two different diameter pipes and various connection pieces.  
They were then judged according to a penalty points system. The teams had approximately one hour to complete the task, which consisted of planning, designing, building and operating their network. 
Woolhope High School learner, Siyanda Mvunyiswa, Daniel Pienaar High School's Owam Ntlemeza, Sanctor Secondary School's Mervonecia Groepe, and Xhanti Shai of Douglas Mbopa High School were crowned the winning team of the competition after scoring 65 points.  
Groepe said she was surprised as she had not expected her team to come out on top: "It is amazing that we won. Team work is one of the most important skills I have learnt from the competition and it has made me consider going into an engineering field where I can work with people." 
Second prize winner, Olwamuthando Ngcobondwana of Newton Technical High School, said she enjoyed participating in the competition and aspires to be a civil engineer: "I see myself as a civil engineer and hope to study at the University of Cape Town next year." 
Third prize winner, Litha Nohashe of Woolhope High School, said the biggest challenge of the competition was knowing how to start: "Our team wanted to at least make the top three. The competition is great. It is not only an eye opener to experience what civil engineering is all about, but you can also apply the principles to your life, so it was valuable to learn."