With the easing of nationwide lockdown regulations to Alert Level 1, SANRAL has stepped up stakeholder engagement and social facilitation. SANRAL shares information about its programmes and strengthens relationships with communities living around its projects by hosting stakeholder engagement sessions, like the flagship 'Taking SANRAL to the People' programme.
"Our stakeholder engagements and social facilitation meetings have been bolstered since we entered Level 1. Our engagements take place with key stakeholders such as the road construction industry, citizens, the business community, traditional leadership, civil society, and local and provincial government.
"Our social facilitation is aimed at addressing targeted stakeholders and talking about specific topics," said SANRAL's stakeholder engagement coordinator for the Southern Region, Welekazi Ndika.
Since the beginning of lockdown SANRAL has followed strict regulations when addressing stakeholders. With the country at Alert Level 1, there has been an increase in the number of stakeholders attending these engagements.
"We adhere to strict regulations. We invite fewer guests to attend gatherings, as per government's stipulation, but always ensure that other stakeholders can access them using virtual platforms. We also do our best to make sure events are streamed live on SANRAL's YouTube channel and other digital platforms," added Ndika.
Events are streamed live on SANRAL's YouTube channel and other digital platforms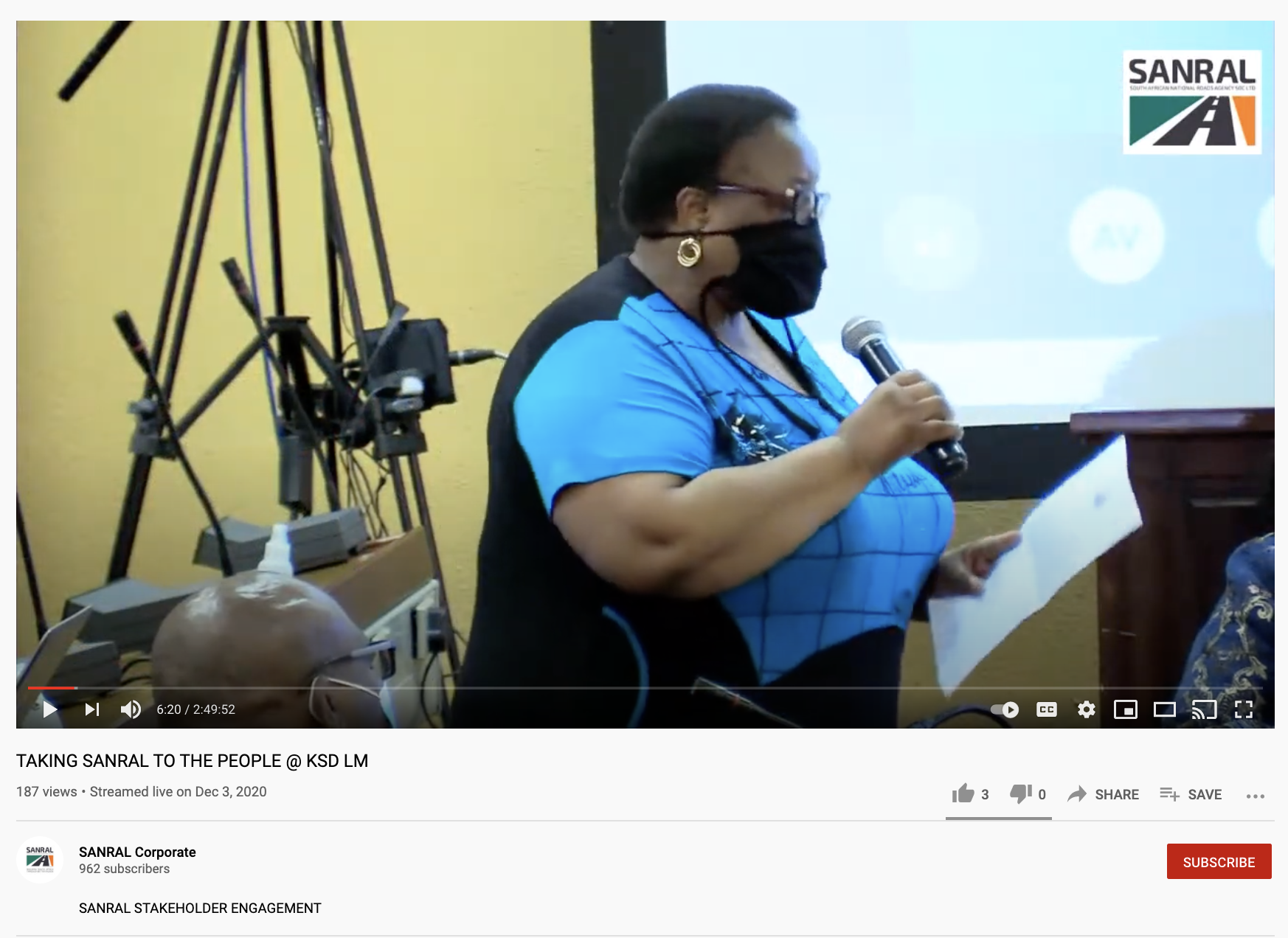 These engagements are key for SANRAL to communicate directly with stakeholders and not only to learn about their viewpoints, but to provide new insights on issues they may have.
They are also important for SANRAL to inform stakeholders about current and upcoming projects that will create economic transformation and job creation in the region.
 The maximum size gathering for site inspections or other outdoor gatherings is now 50% of the capacity of the venue to be used, up to a limit of 100 people indoors or 250 outdoors.
SANRAL has developed a standard operating procedure (SOP) to guide the procurement process while preventing the spread of the coronavirus. This involves adapting to virtual and digital engagements for training,briefings and submission of tenders.
The full SOP can be viewed on the SANRAL website https://www.nra.co.za/