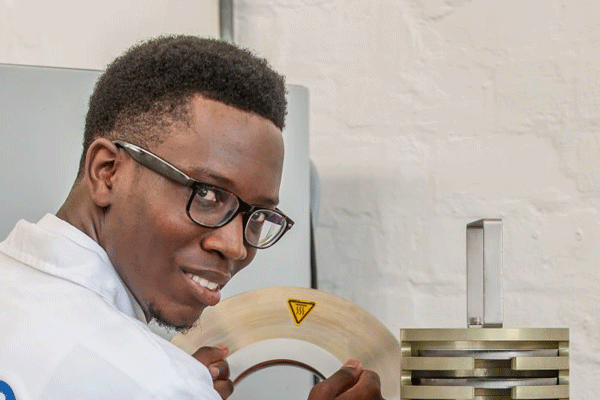 The South African National Roads Agency (SOC) Limited (SANRAL) has appointed its first research associate at its Southern Region.
Keith Nare is a doctoral candidate who also volunteers as a maths and science and homework club mentor.
Nare, a PhD candidate at Nelson Mandela University (NMU) is pursuing his doctorate in physical and polymer chemistry and has been appointed the research associate at SANRAL's materials lab in Port Elizabeth, Eastern Cape.
His relationship with SANRAL in 2016 while still working as a visiting student at the SANRAL Training Academy for Candidate Engineers. He officially joined the lab on 10 January 2017.
Education is his life
Education plays a very important role in Nare's life as he volunteers with Masifunde Learner Development at Walmer High School in Walmer in Port Elizabeth.
He said: "I am a homework club mentor as well as a Mathematics and Science tutor. Honestly I love teaching, it is a response to an outer call from within to give back to the community especially where there is need for me. It brings joy to see other young people grow and get to realise that their birthplace shouldn't determine their future.
"The future of the country is in the hands of the youth and how far they are willing to spread the ripple effect of extended responsibility for community development in the spirit of Ubuntu."
Nare encourages high school learners and other tertiary students to continue studying.
He said: "Perseverance, humility and the willingness to go the extra mile will make a big difference. I encourage them to get mentors that can help them grow. Always remember that it takes a village to raise a child, so everyone in your path is important. You must be willing to learn and grow for it is in those lessons that you become a better you."
When he has free time he enjoys playing tennis and go on nature walks.
Getting the research position 
He became aware of the research associate position during his interactions with SANRAL and Labco (Labco is the tendered and appointed laboratory service provider for the SANRAL Training Academy in Port Elizabeth) while still working on his MSc.
Nare said: "SANRAL and Labco helped me with other tests I couldn't do at the University. The whole idea was to partner with SANRAL in fostering an industry-academia partnership to address the current challenges faced by industry in understanding the intricate details to the chemistry behind polymer modified bitumen though emphasis for me was crumb rubber modified bitumen."
Sean Strydom, SANRAL Southern Region materials specialist explained that Nare's position at SANRAL involves Rheological testing which is a highly specialised testing using high end testing equipment of which there is only  a handful of in the country.
Strydom said: "The training of the persons who operate the Dynamic Shear Rheometer (DSR) and Bending Beam Rheometer (BBR) is done by the international suppliers of the equipment.  We were lucky that Keith during his studies had already received in depth training in the use of the testing equipment.
"The test data Keith is generating will assist us in ensuring our new Performance Specification of bitumen is best suited to South African road conditions. The data is being generated by testing bitumen samples from SANRAL's construction sites from across the entire Eastern Cape."
Linking academia and industry
Nare's role at the lab is a link between academia and industry with responsibilities spanning from internal research on bituminous binders emphasis on implementation of the South African Performance Grade Bitumen Specifications, taking responsibility for the performing and monitoring of tests and ensuring time frames are adhered to, presentation on findings mostly at workshops and conferences, present training and guidance to technicians and graduate engineers, ensure the equipment used has been maintained, verified and calibrated and propose improvements where necessary.
Nare has a BSc (Biochemistry and Chemistry), Bsc Honors (Chemistry), MSc (Physical and Polymer Chemistry) all from the Nelson Mandela University (NMU).
He said: "In my MSc and as part of the Centre for Rubber Science and Technology at the NMU I was focusing on the Formulation Development and Theromorheological Properties of CrumbRubber/EVA modified bitumen. It involved combination of rubber crumbs from used tyres and plastomer EVA in bitumen to come up with an optimised blend for application as road materials.
"I also focused on the energy-sustainability nexus of use of Fischer-Tropsch wax as a warm mix additive in the optimised blends. Another area of interest in the study was investigating the use of antioxidants hydrated lime, carbon black, Irganox 1010, Irgafos 168 to improve the short term aging behaviour of 70/100 bitumen. Finally I looked at the costing implications of each section of work to come up with summative view of different areas of research based on the current trends in costing in the industry as a whole."
Nare's roots
Nare hails from Rusape, a very small town on the Eastern side of Zimbabwe and has been living in Port Elizabeth since 2011. He is the eldest of four brothers and the first in his family to study in the field of civil engineering. His second oldest brother studies at university, the second youngest is in Grade 12 and the youngest brother is a Grade 8 pupil.
He has always had to be the leading example in every aspect which is good pressure and motivation at the same time.
Nare said: "I love South Africa it offers me an opportunity for growth, career development and my roots from my father's side are here."
Apart from having goals to feed into the pool of knowledge in South Africa and as a scholar learn from the gurus of the industry partnering with industry players to solve the current problems faced in the roads industry by improving road materials product development based on need in the vast areas of the country, he also has a keen interest in improving solid waste management and increasing awareness on recycling in different waste streams.
"I love to work for SANRAL – it is very empowering to be in the company with mentors that are always willing to help and groom upcoming young people. I also want to be an ambassador for education and empowering youth to see you beyond their current situations," he said.
Nare did not always consider a career in civil engineering. When he was a child he wanted to be a lawyer but then he enjoyed environmental sciences and solid waste management and ended up in Chemistry.
He said: "It was during the Research Proposal part of my MSc that I decided to merge the Chemistry and the Civil Engineering. Honestly what came to mind was recycling of used tyres and where they could be utilized more without being taken to the land fill.
"Among other technologies was use of rubber crumbs to improve the thermorheological behaviour of bitumen so that was my grand entry into Civil Engineering and I must say I love it and am willing to grow as it is a very interesting field with so much areas of growth especially from a sustainability point of view."
Nare said SANRAL does amazing work and names the Uitenhage Industrial Zone slope stabilization project as an example of the magnitude of projects delivered by the agency.