Deliberations were around key challenges faced by women in construction and related industries and how SANRAL and its empowerment partners could further assist to advance their interests.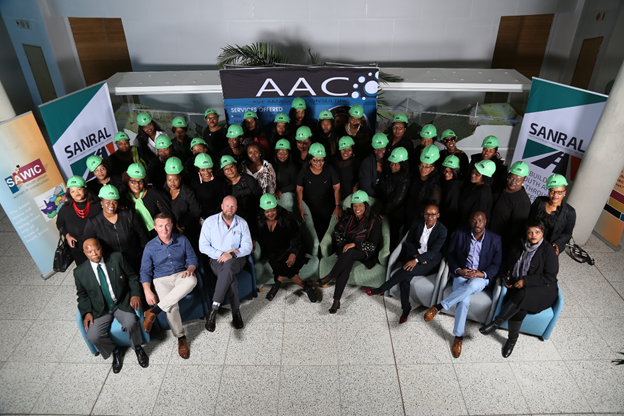 The South African National Roads Agency (SOC) Limited (SANRAL) held a round table engagement with South African Women in Construction (SAWIC) to deliberate on how the roads agency can further advance interests of women in the construction industry. 
Held at the SANRAL regional office in Baywest, Port Elizabeth, the engagement was attended by SAWIC president Kile Mteto, SAWIC Eastern Cape Chapter chairperson Phumeza Kate and a group of SAWIC members who recently completed a training programme with SANRAL. 
The group of 40 SAWIC women, who received their certificates during the session, undertook a two-week Accredited Training Programme in Construction Management organised by SANRAL Southern Region SMME Unit Coordinator Vanda Nqunqa to empower them to better manage their construction businesses.  
"The training programme came after we identified common challenges faced by SMMEs on SANRAL projects," said Nqunqa. 
A mutually beneficial relationship 
SANRAL's Stakeholder Relations Co–ordinator for the Southern Region, Welekazi Ndika, said this was the first step towards a long and mutually beneficial relationship.  
She outlined construction projects to be undertaken by SANRAL in the province in the next three financial years in which women-owned businesses could look forward to participating. 
Ndika outlined the roads agency's transformation policy, which aims to ensure participation of marginalised groups in opportunities created by SANRAL. 
"It is very critical that SANRAL's procurement and supply chain policies be transformation friendly to ensure that our transformation objectives are fulfilled. Our focus should no longer be only on the 30% subcontracting to SMMEs. We should push for 51% black ownership in joint ventures on our projects to ensure tangible growth and transformation," urged Ndika. 
Empowerment partners speak 
SANRAL's empowerment partners – Bell Equipment, Barloworld Equipment, Pilot Crushtec and Purple Sunshine – were in attendance to outline the services the group can benefit from, as well as their partnership with SANRAL that allows emerging contractors access to plant equipment and mentorship. 
Pamela Bukashe of tar manufacturing company Purple Sunshine said: "98% of Eastern Cape roads are gravel, so you are in the right space." 
She shared insights on the use of polymer in construction and advised members to consider participating in this area of the industry as it was not yet congested. 
SANRAL's Community Development Specialist, Dr Mongezi Noah urged SAWIC members to not only focus on SANRAL's construction projects.  
"You are not limited to participating in SANRAL's capital projects. Our transformation policy applies to all our sub-sectors, which are maintenance, operations, ICT, legal, non-core services, finance and audit, human capital, property and marketing, and communications," said Noah, urging the members to broaden their participation in opportunities in sub-sectors of SANRAL. 
SAWIC President Kile Mteto appreciated the support provided to the Eastern Cape Chapter by SANRAL Southern Region. 
Mteto said: "What is SANRAL going to do to ensure that the investment made through this training yields results? We would appreciate SANRAL ringfencing a budget to place the persons trained into an incubator system in order to see real growth in the next few years.  
"The training should be intentional and done consciously in order to yield results. My proposal is that SANRAL should apply to National Treasury to enable ringfencing of work for targeted enterprises, particularly women in the sector." 
Mteto advised the certificate recipients that "having knowledge is one thing, but applying the knowledge is where the empowerment is". 
"Thank you SANRAL leadership and management for your continued support. Our members should never take opportunities of this nature lightly. I want to plead with SANRAL in the Eastern Cape to encourage their counterparts in other regions to follow in their path and assist SAWIC chapters in other provinces," she concluded. 
Deliberations were around key challenges faced by women in construction and related industries and how SANRAL and its empowerment partners could further assist to advance their interests. 
Ndika said that although the task that lies ahead is a mammoth one, some ground is already being covered to ensure that tangible results can soon be realised in the advancement of interests of women in the sector.