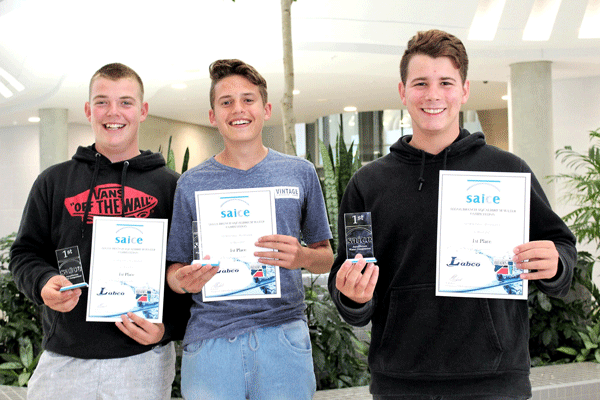 The winner of the South African Institution of Civil Engineering (SAICE) Algoa Branch Aqua Librium Water competition is Framesby High School in Port Elizabeth.
The event was supported by the South African National Roads Agency (SOC) Limited (SANRAL) and Labco, which provides materials testing in the fields of Soils, Asphalt, Bitumen, Concrete and Aggregates.
SAICE hosted the one-day competition at SANRAL's offices in Port Elizabeth on 25 March 2017 to afford learners the opportunity of planning, designing, constructing and operating a water distribution network, whereby they encounter similar challenges that occur in managing an actual water distribution network of a town.
Framesby High learners Donovan Jerling, Juandre Gilbert and Philip du Plessis will compete in the SAICE 14th Annual Schools Water Competition, in July in Johannesburg.
The participating schools included Framesby High School, Alexander Road High, Loyiso Senior Secondary, Mfesane Senior Secondary School, Newton Technical High school, Pearson High School all from Port Elizabeth and Brandwag High School from Uitenhage.
Pieter Joubert, SAICE Algoa branch chairman, said: "This competition demonstrates the importance of managing water distribution systems which are important to supply safe and clean drinking water to people. It also exposes the learners to the field of civil engineering and provides a glimpse into why civil engineers play a critical part in our infrastructure management."
SANRAL southern region's marketing and communications manager, Michelle Ah Shene said participating in SAICE events is an extension of SANRAL's commitment to the development of the field.
Ah Shene said: "SANRAL promotes the importance of civil engineering through supporting projects like the Nelson Mandela Metropolitan University (NMMU) School of Engineering STEM Pipeline Project, bursary and scholarships and training civil engineering graduates in the SANRAL Southern Region Training Academy."
Water distribution
The competing teams were tasked to design a model water distribution network to distribute three litres of water equally between three points on a grid using two different diameter pipes and various connection pieces.
They were then judged on how well they executed the task – working on a penalty point system.
The teams had about an hour to plan, design, build and operate a water distribution system, the same way qualified civil engineers would do in a municipality.
What started as a South African competition has grown over the past three years to include Swaziland and Zimbabwe.
"This is an adventure that all learners remember once they had been there to experience the challenge first-hand," Joubert said.
He added that this competition exposes learners to the processes which influence their daily lives and are often taken for granted, such as providing water supply to homes. They are made aware of the intricacies involved in the design of water distribution networks and the actual water delivery to households.
Joubert explained that the grid used for the water distribution network is on a background that depicts the water cycle with all the major impacts affecting this scarce resource. This grid intrigues learners, as well as educators, who find it a very useful educational tool.
A precious commodity
The competition creates awareness regarding the issues surrounding water in South Africa. It spreads the message that water is a precious commodity, which should be recycled, re-used and respected.
Through this annual competition SAICE spreads awareness that water should be used wisely, that infrastructure should be maintained and that new infrastructure should be developed to provide portable water to all in South Africa.
Gilbert of Framesby High School said he enjoyed participating in the competition.
"It was extremely fun to do the experiment. When we arrived here we had no idea what to expect and what to do. We can go back to school and share what we have learned with fellow classmates," said Gilbert.
Steyn Williams of Brandwag High School said he was happy to have participated in the competition. "I am glad to be here. This was quite a learning experience."
Morgan Moss of Alexander Road High School won second place.
He said: "This was exciting. I was nervous because I was not sure if they would let me participate because I was alone from my school and the competition entries call for a three member team.
"Maths and science are my favourite subjects. I also enjoy doing experiments and building things."
Brandwag High Grade 9 to 12 science teacher, Peter Baxter, said the children enjoyed participating in the competition.
"This was exciting and challenging for them.  They looked forward to this experiment," said Baxter.
Baxter added that learners from his school also participated in the SANRAL and STEM PP projects.
Tarisai Seven, a Grade 8 and 9 Science and Technology teacher at Loyiso Senior Secondary, said the school had two teams participate during the competition.
Seven said: "Competitions like this one is very important to open the minds of the learners. Today was important for the learners who gained knowledge about the working of water systems. At school there are not many experiments that take place because resources at the school are little."