SANRAL Western Region and its contractors, suppliers and consultants recently raised the impressive sum of more than R100 000 at its annual Imbizo held near the Huguenot Tunnel at Paarl – all for a good cause.
Every year, SANRAL hosts this event to build relation- ships with industry related stakeholders, create an opportunity for companies to network and give back to the community.
SANRAL selects specific charities that benefit from the Imbizo. In 2015 funds raised were donated to the GH Starck Frail Care Centre in Hanover Park; the Lily Haven Place in Bonteheuwel; and Huis Zonnekus in Milnerton. The teams also helped to pack 'pamper packs' for the senior citizens at the three homes.
Twenty-nine teams participated in various games including tug of war, relay races, wheelbarrow race and obstacle courses.
Stand-up comedian Wayne Mckay, who was a laugh a minute with his witty comments, kept everyone on track and in good spirit.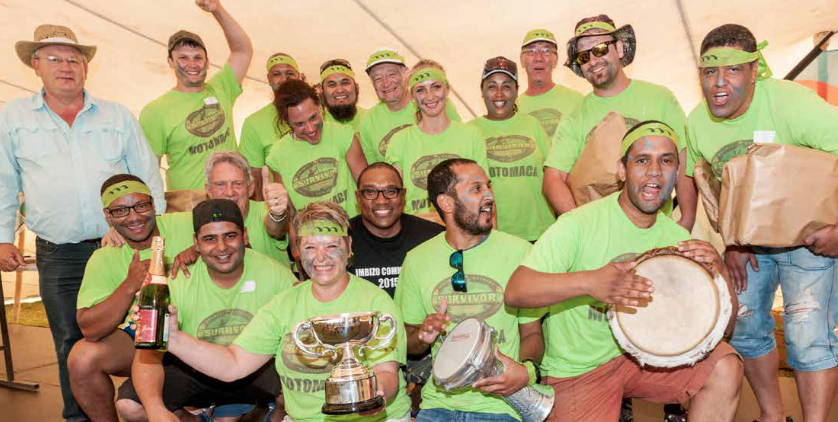 During the day the teams prepared dishes at their stands as part of a cooking competition and presented their best culinary delights ranging from chicken kebabs, fish to potjiekos to the judges. The team of Mott MacDonald came up tops. The team from Aurecon SA won the Team Spirit award.
The overall winner on the day was the team of Mott Macdonald, followed by Aurecon SA and Element Consulting Engineers.
Comments from the teams:
"This was a great day and we had a tremendous time enjoying the vibe and people around.

The music, the stand-up comedian kept everyone entertained and there was lots of laughter, fun and games. At the same time it was rewarding to know that all our efforts were in aid of a good cause."
Alta Groenewald, who heads up the event organising committee, said it was amazing to see the positive spirit of all the participants and how generously they gave to the less privileged.
Kobus van der Walt, Western Region Manager, said it was heartening to see not only the enthusiasm with which the teams competed, but also the support given to the auction to reach the amazing amount of R106 000.
"People really opened their hearts and we would like to say a big thank you for all who made the day such a huge success."