Calibre of applicants for scholarship and bursaries programme is exciting for 'future of South Africa'.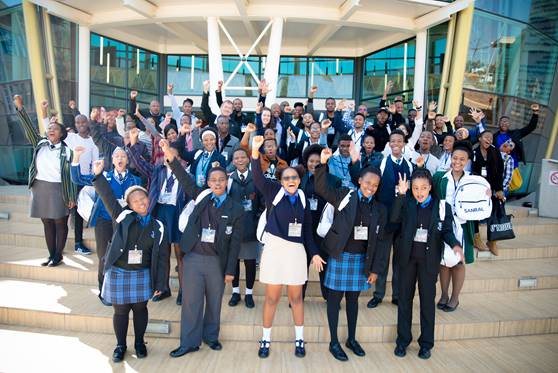 In a boost to engineering in South Africa, SANRAL's Northern Region welcomed 23 deserving students from Gauteng, Limpopo, Mpumalanga and North West into their scholarship and bursaries programme. 
The scholarship programme, which covers school fees, textbooks and uniforms, is open to high school learners who display exceptional academic ability in mathematics, physical science and English, with preference given to those in rural schools. 
SANRAL encourages young people who would like to build a career in civil engineering to apply for its scholarships and bursaries. The current round of applications for bursaries opened on 1 June 2018, while scholarship applications will open on 1 July 2018. All applications must be submitted by 30 September 2018. 
Bursaries are awarded to students who have successfully registered for their undergraduate or postgraduate studies in engineering related to construction, the built environment and road management studies. 
To ensure recipients get the best out of the programme, SANRAL has developed a buddy system where the students are able to build relationships with one other to share any information required for academic projects and assignments. 
Bursaries give a sense of dignity and pride 
At the induction event, held at SANRAL's Central Operations Centre in Pretoria, Educational Programmes Coordinator, Gcina Sentletse, expressed the agency's excitement about being able to invest in each candidate's future: "We had to choose the very best from the many applications we received. Looking at the calibre of our recipients, we are excited for the future of South Africa." 
Malesiba Mabe, a previous bursary recipient and now project manager at SANRAL, said: "The SANRAL bursary covers a lot. It isn't just about the money. It has given me a sense of dignity and pride. When I and other recipients struggled with a particular module, the bursary administrators at the time stepped in and ensured that we passed with distinctions." 
Grade 12 scholar, Khanyisile Makhoba, said her scholarship has been a blessing: "I'm very grateful to SANRAL for affording me a good quality education. Thanks to this scholarship, I don't need to worry about anything other than my big dreams." 
Japhta Mamanyane is a young Master's student in civil engineering, specialising in hydraulic structures at the University of Johannesburg.  
"SANRAL's bursary administrator motivated me to continue my studies. It was exciting for me to be the first black male student at the age of 22 to do my Master's under SANRAL. I come from a family where no one was educated at all and the school I went to only had two blocks. I told myself that education would enable me to progress in life and I have continued with that motivation."