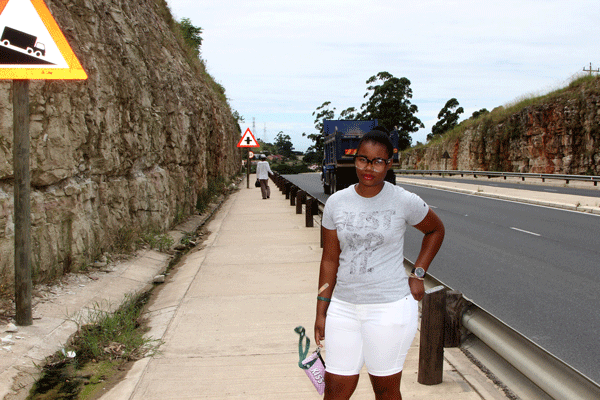 Pedestrian deaths on roads is a concern for The South African National Roads Agency (SOC) Limited (SANRAL) and safety is always a huge consideration in any project.
SANRAL has undertaken work between the Murchison and Marburg interchange in KwaZulu-Natal. It involved construction in two lanes to improve the capacity of the road, which carries high volumes of traffic, especially sugarcane and timber trucks.
Also, the concrete sidewalks, which were 1.6m-wide along the entire road, were found to be inadequate due to the high volume of pedestrians. New 2.3m-wide sidewalks were constructed with guardrails to offer protection from the traffic.
Taxi rank and bus facilities were provided at Murchison, while bus and taxi bays were also constructed along the road.
Dumisani Nkabinde, SANRAL's eastern region project manager, said: "The existing Kwabhoboza intersection was very busy and the high speed of the vehicles travelling the N2 made the crossing extremely dangerous, not only for vehicle users but also pedestrians trying to cross at this intersection.
"The improvements at the interchange resulted in better walkways for pedestrians, improved safety for pedestrians and motorists and a reduction in accidents."
Nkabinde added that these improvements were in keeping with the roads agency's community development ethos, to ensure proper pedestrian facilities and safe access points for communities living along the national road network.
Happy pedestrians
SANRAL has been inundated with comments from happy pedestrians for a job well done.
Mpumelelo Ngwazi, said: "I definitely feel safer walking along a road with a proper sidewalk. There were many crashes on this road before it was widened and the sidewalks were constructed."
Andile Bomvana, believes pedestrian lives will be much safer with the broader sidewalks.
"There used to be so many accidents involving pedestrians on this road, especially near Marburg. Now, even when there are crashes, at least the pedestrians will be safe, because the sidewalks are designated for us," he said.
Zethu Majola, said the widening of the road and construction of the sidewalks made it safer children to walk to and from school.
"There has been a definite drop in crashes since the road was widened. We also have peace of mind knowing that our children are safe when they go to school," said Majola.