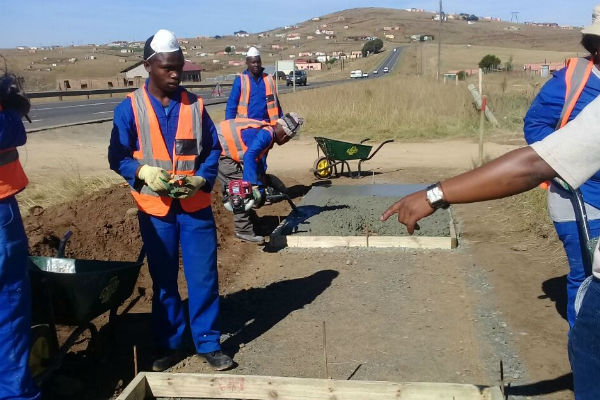 The South African National Roads Agency (SOC) Limited (SANRAL) is building a 20km walkway along the N2 from Mzeke to Mount Frere in the Eastern Cape, showing pedestrian safety remains a top priority for the company.
Through the initiative, SANRAL has also created work for 234 people from the Mhlontlo and Mzimvubu Local Municipalities.
The project's value is approximately R35-million and the expected duration is about 18-months. Construction on the pedestrian walkways started in October 2016.
Mbulelo Peterson, SANRAL southern region manager, said: "This project has changed the lives of the communities in many ways by providing skills development, employment opportunities, local SMME business development and local economic growth as well as training people to work on other projects."
Project walkway
The pedestrian walkway is 1.8m wide along the 20km stretch of national road along the N2 section 19, between Qumbu and Mount Frere towns.
The majority of the pedestrian walkway is being constructed at the entrances to the towns of Qumbu and Mount Frere and other villages, with high pedestrian traffic.
According the Department of Transport, the Eastern Cape had the second highest number of pedestrian deaths in South Africa between 1 December 2015 to 11 January 2016
The death toll for the 2015/16 financial year was 278 in the Eastern Cape, with KwaZulu-Natal at 302.
An accredited skills programme
The training provided on the project includes a CETA Accredited Skills Programme for Construction to SMME company owners, supervisors and foremen.
Training includes the development of construction tender documents; workplace training, mentoring, and assessments of SMME contractors during construction. Retraining, final assessment and certification of SMME on completion of the skills programmes; and CIDB upgrades on completed of the works by SMME entities.
Peterson said: "The response from the community has been very positive.  In order to achieve this high level of buy-in, SANRAL facilitated the introduction of the appointed service provider to the projects stakeholders and beneficiaries.
"The aim was to involve the community as much as possible. A Project Liaising Committee (PLC), which is the driver of the project at the community level, has been established."
This PLC consist of the following local structures: Municipal representative, affected Ward Councillors, affected Traditional Leaders, Community Development Workers, Project Liaising Officer, Service Provider (Imbawula) and SANRAL.
Peterson said: "These representatives are the leaders of the community and the community respects its leaders. So, their involvement in the projects planning stage was a very strategic decision for the community to own the project. Communities respect the fact that the project was introduced to them by their community leaders and they see the sense of ownership from the leaders.
"The Project Liaising Committee sits every month to discuss project and community issues. The local labour employment was done through the community's normal recruitment processes. So, the community is very happy for the projects and the participation level is very high. The proof of the communities support of the project is evident in the high level of performance from the people who are working on the projects as this is a labour intensive programme."