Taking SANRAL to the People takes over the Alfred Nzo District.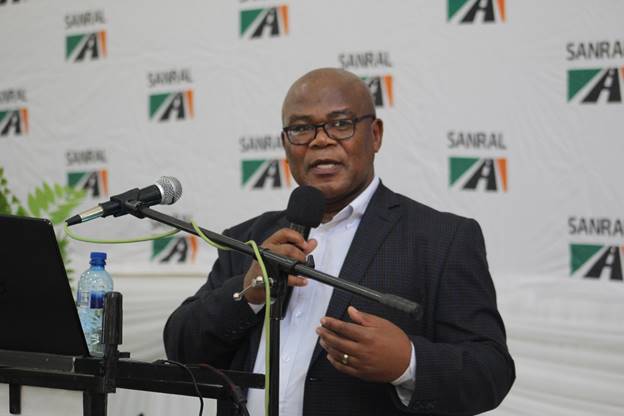 The South African National Roads Agency (SOC) Limited (SANRAL) engaged stakeholders from the Alfred Nzo District municipalities and the neighbouring Elundini Local Municipality on the current and upcoming projects in the area. 
Mbulelo Peterson, SANRAL Southern Region Manager, introduced SANRAL and its services to stakeholders from Alfred Nzo District municipalities and Elundini Local Municipality. 
The Taking SANRAL to the People stakeholder engagement session saw over 250 people in attendance and was held at the Town Hall in Matatiele. 
This is an engagement platform aimed at promoting dialogue between the road's agency and its stakeholders, ranging from the three spheres of government, construction forums, emerging contractors, the business fraternity; public transport associations; engineers; communities to other key stakeholders that are affected by SANRAL projects. 
He spoke about SANRAL's transformation agenda and engaged stakeholders on the agency's Transformation framework as set out in the Horizon 2030 strategy and discussed the agency's fourteen-point plan. 
Peterson said: "With this strategy, we've undertaken to ensure that emerging black contractors participate considerably in SANRAL projects as this was not previously the case, owing to the monopoly in the sector. We have reviewed our policies to ensure that they speak to our transformation agenda." 
He added that, to further demonstrate SANRAL's commitment to the development of emerging contractors and communities at large, all SANRAL projects have an empowerment component. 
Reflecting on the roads agency's performance in the past few years, Peterson underscored that due to the limited funding SANRAL has been subjected to, the number of roads in good condition are on the decrease, with more roads currently in poor state. 
Projects in the area 
SANRAL Project Manager, George Rugodho, gave feedback to stakeholders on 14 projects being undertaken across Alfred Nzo District municipalities and the neighbouring Elundini Local Municipality, as well as upcoming projects.  
These projects consist of projects in the construction phase, routine road maintenance projects and projects in the design or planning phase. 
"Vandalising of fencing along project routes is a major challenge. I want to urge members of the community to guard against this and to report such should you come across it," he highlighted.  
A major ongoing project within Alfred Nzo District Municipality is the routine road maintenance project from Indwe to the Kwa-Zulu Natal border.  
The project is in construction and started in 2015. The contract has been extended to conclude in 2020 and is valued at R90-million over three years.  
Traffic calming measures are also due to be built around schools between Maclear and Matatiele, subsequent to a request from the local traditional council. 15 SMMEs have been subcontracted on this project and received training on work related activities, e.g. pavement repairs, installation of gabions, concrete works, Health and safety and Financial management for construction.  
The budget to be spent on SMMEs is between 60% and 80% of the main contractor's work. 
Projects earmarked to start early next year include a road signs project in the Alfred Nzo District Municipality.  
The project, which is expected to conclude in 2021 is valued at R40-million and the project is to be fully implemented by SMMEs and supervised by a construction manager.  
Another is of line markings, valued at R40-million and will run over a two-year period. The project will include training of local SMMEs. 
Responding to issues raised 
Responding to some of the key issues raised by stakeholders during the session, Siphiwo Mxhosa, SANRAL Stakeholder Relations Manager gave focus to the status of the Matatiele to Qacha's Nek road that needs upgrading. 
He said: "We want to connect South Africa with other countries through roads. The Matatiele to Qacha's Nek border (Lesotho) road is currently a provincial road. Engagements to transfer the road to SANRAL have begun. Once this process has been finalised and a budget allocated for the upgrading of this road, SANRAL will commence with the upgrades." 
Sonwabile Mngenela, Chief Whip of Matatiele Local Municipality said: "It is important that the local community must benefit from government projects as this will benefit the local economy". 
Councillor Sixolile Mehlomakhulu, Executive Mayor of Alfred Nzo District Municipality applauded SANRAL for the proactive engagement of local stakeholders. 
"This engagement is the starting phase of more interactions that will unfold as we work together to ensure the development of our District, as well as that of our black emerging businesses," he said.