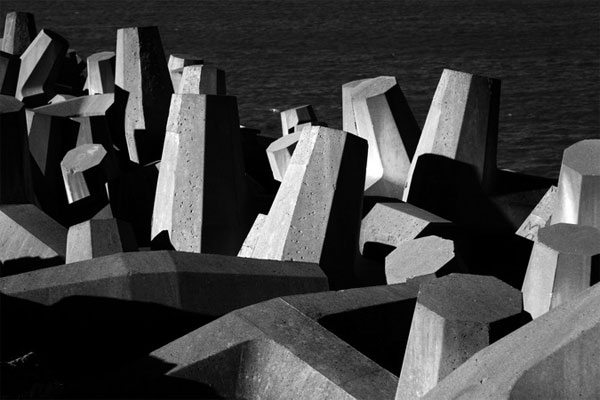 The South African National Roads Agency Limited (SANRAL) is empowering small business in the Eastern Cape and driving South Africa's National Development Plan (NDP).
South Africa's NDP or Vision 2030 aims to eliminate poverty and reduce inequality by 2030. According to the plan, South Africa can realise these goals by drawing on the energies of its people, growing an inclusive economy, building capabilities, enhancing the capacity of the state, and promoting leadership and partnerships throughout society.
SANRAL has contracted small businesses in the Eastern Cape to manufacture dolosse, which are used to protect N2 freeway and parallel railway line adjacent to the Settlers interchange in Port Elizabeth from destructive waves from the sea.
The dolosse are interlocking blocks of concrete and are being manufactured at the Markman Casting Yard.
Thabiso Ngozwana, SANRAL Southern Region project manager, said: "Twenty people, five each from the four SMME sub-contracting companies, received training.
"The four SMME sub-contracting companies were selected for the 17 SMME packages which were identified and advertised as part the N2 Bramlin to Soutwerke (Port Elizabeth bypass) special maintenance project."
Skills development at the heart of SANRAL
The training was provided by Meroe Skills Development in July this year and included practical sessions on the cleaning and assembly of concrete form work, basic concrete technology, concrete mixing, placing, finishing and testing.
The course was offered as part SANRAL's Small Contractor Development, Training and Community Participation programme and is aimed at creating sustainable enterprises.
"It was important for SANRAL to host the concrete training and to empower local SMMEs in the manufacture of pre-cast concrete products and to increase local participation on the N2 project," said Ngozwana.
Portia Ngcwabe, who has a post graduate degree in management and is the owner of Phefong Construction had five of her staff attend the concrete training programme.
She said: "By attending the workshop my staff can produce good products and do any concrete work. In the past the staff would receive on-the-job training from the contractors but this was an opportunity for them to gain skills and a qualification.
"This is a great opportunity for black women especially in the civil engineering industry which is dominated by men."
Nwabisa Mgubasi, a qualified architectural draughtsman and co-owner of Sokhazimla Trading CC also attended the concrete training and said she now knows how to mix concrete properly.
"I learnt the ratio of how to get the different strengths of concrete. This is an amazing opportunity and I am now also in a position to impart my knowledge to the next person," she said.
Nathi Lusizi who works for Magna Civils said the course was very informative. "I not only know how to mix and make concrete but also know how important it is to vibrate the concrete to make sure there are no bubbles trapped in the concrete mix."