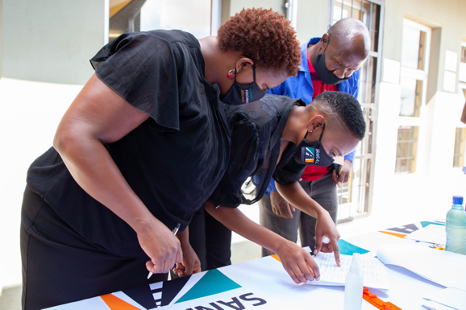 SANRAL's role in the country's economic recovery is key, and the agency is deliberate in contributing to the preservation of livelihoods through the awarding of projects, job creation and infrastructure delivery.
While strengthening efforts and response to COVID-19, SANRAL will continue to endeavour to transform the national landscape through the work they execute, by creating greater access to markets and supporting the development and participation of black business.
A key requirement in attaining SANRAL's transformation objectives continues to be the development of contractors, consultants and suppliers. SANRAL's supplier development programme continues to strengthen efforts in this space, by enhancing current initiatives like the Supplier Development Desks and the online Supplier Development Portal, as well as introducing new initiatives such as supplier development pre-tender training.
The Supplier Development Desks at each of SANRAL's regional offices are now operational. The online portal will also be launched soon, allowing for continued assistance to SMMEs while reducing risk exposure during the pandemic.
In pursuit of its transformation policy objectives, SANRAL has committed to supporting the development and participation of black-owned businesses by embarking on an extensive training programme that seeks to empower Targeted Enterprises with the much-needed skills and knowledge to effectively participate in upcoming subcontract opportunities.
An open tender for SMME training was advertised on 12 February 2021 to procure a suitable service provider to provide training to Targeted Enterprises. More than 10 000 individuals from different Targeted Enterprise businesses will benefit from this initiative in the next 2–3 years. The training will include construction pre-tender and post-tender training, to ensure the success of Targeted Enterprises participating in the programme.
Furthermore, the Targeted Enterprise businesses will also benefit immensely from the established strategic partnership that SANRAL has secured through its Memorandums of Understanding (MoUs) with industry players. The MoUs are intended to promote the development of small contractors and increase opportunities for them to access funding, construction equipment (either for purchase, hire or lease), as well as training and mentorship.
"Our transformation policy has clearly defined targets for the participation of black contractors, suppliers and professionals in all projects and procurement commissioned by SANRAL. It underlines that SANRAL can help to build a capable and developmental state and drive economic development through the provision and maintenance of critical infrastructure," said SANRAL Board Member Thamsanqa Matosa.
Job loss, financial difficulty and the unique dynamics of operating in the 'new normal' created by the pandemic have had an impact on the country at large. Now is the time to increase efforts to get the country back to being able to deliver.