SANRAL's policy to advance the broad participation of black-owned enterprises epitomised in work being carried out on the R573.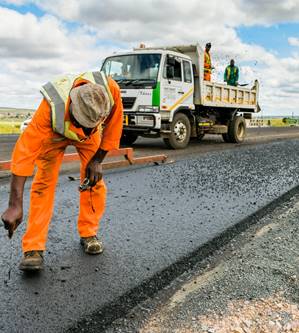 The upgrading of the R573 Moloto Road north of Pretoria is the living embodiment of the broad development strategy of the South African National Roads Agency (SOC) Limited (SANRAL). 
SANRAL constantly looks for ways to empower local communities to enjoy the long-term economic benefits from its projects, especially in Routine Road Maintenance (RRM) contracts. 
According to Vusi Mona, SANRAL General Manager of Communications, the development of SMMEs as part of the maintenance of national roads is one of the agency's main priorities. 
"The RRM programme was established on the national road network to offer various opportunities for the development of SMMEs, including training, mentoring, counselling and advice," he said. 
RRM refers to work or contracts awarded for the general preservation and maintenance of the road infrastructure. SANRAL manages 22 197km of roads in the country and every metre must be maintained, which provides opportunities for more SMME participation. 
SMMEs given extensive training  
Mona said: "SMMEs are key drivers of economic growth and job creation. It is a condition of SANRAL tenders that a major portion of the works is set aside for SMMEs.  
"The proportion of works (either 80% or 60%) to be set aside for SMMEs is dependent on the size of the Broad Based Black Economic Empowerment participation of the main contractor. Ninety percent of the works set aside for SMMEs is carried out by black-owned companies." 
On the upgrading of the R573 Moloto Road, which is one the major projects currently underway, a total of 203 SMMEs have received training to better equip them when bidding for tenders. 
SANRAL identified that local SMMEs have little exposure to the tendering process and this disadvantages them when responding to bids.  
The training included quality in construction, contracting and documentation, team management, precast concrete kerbs, brick paving, basic tendering processes, construction contracts and entrepreneurial skills. 
Thus far, the feedback has been extremely positive for both the accredited and non-credited training conducted, and SANRAL will continue to champion this initiative to empower more local businesses, said Mona. 
All interested SMMEs can visit the SANRAL website www.nra.co.za for more information regarding available opportunities with the agency.