The expo seeks to expose rural schools to SANRAL's career opportunities, internships, and scholarship and bursary programmes.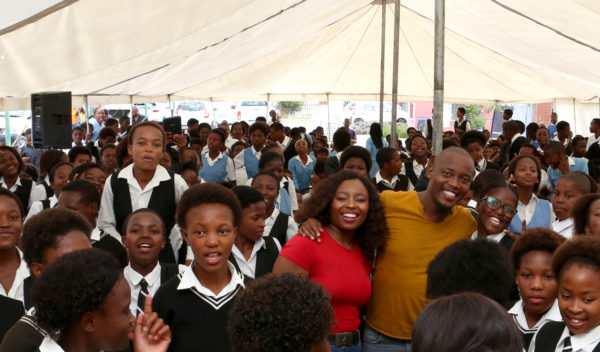 The South African National Roads Agency SOC Limited (SANRAL's) national Career Expo kicked off in Mdantsane in the Eastern Cape recently, with more than 1 000 Grade 9 learners from nine high schools attending. 
The learners were addressed by motivational speaker and businesswoman Bongiwe Mafani, actor Moshe Ndiki and SANRAL Southern Region's research associate and PhD candidate Keith Nare. 
The two-day expo, hosted by SANRAL in partnership with the Eastern Cape Department of Education (EC DoE), was held at the Dr WB Rhubusana Building in Mdantsane and the Mdantsane Public Library in Nu 14 on Thursday 28 February and Friday 1 March respectively. 
Bringing rural schools' options 
The expo seeks to expose rural schools to SANRAL's career opportunities, internships, and scholarship and bursary programmes. It is also aimed at increasing SANRAL bursary and scholarship beneficiaries in the province. 
During the 2017/18 financial year, 161 students received SANRAL bursaries to pursue higher education and 203 high school learners were enrolled in the roads agency's scholarship programme. 
"SANRAL aims to contribute towards strengthening the country's expertise in engineering and construction through its development programme and through the bursary and scholarship programmes. These programmes enable young people to further their studies," said Welekazi Ndika, SANRAL Southern Region's Stakeholder Relations and Communications Coordinator. 
Sydney Swazi, deputy chief education specialist from the EC DoE, said: "We are humbled by this partnership. Our children are being exposed to alternative career choices to empower them to decide wisely." 
Lunga Mnyatheli, deputy chief education specialist from the EC DoE, said: "We feel honoured by the level and quality of presentations made by all the speakers. We are determined to make this an annual event." 
Bongiwe Mafani, originally from Butterworth, reminded learners of the vital role education plays. "Keep a positive mind and know you can achieve anything," Mafani said. 
Moshe Ndiki, the programme director on day two of the expo, encouraged learners to follow their passion. "Push your passion more than anything," he urged. 
Ndiki, who hails from Mdantsane said, "for you to become the best in maths and science you need to practice. Also, seek help if you struggle." 
SANRAL's Keith Nare encouraged the learners saying: "With passion, hard work and commitment you can achieve anything. Your roots do not have to determine your future." 
SANRAL's Ndika said Grade 9 learners were invited because they must make subject choices in Grade 10. "We want to encourage them to take maths and science as these are the main subjects required when applying for a SANRAL scholarship or bursary." 
"Through our internal and external bursary programme, the scholarship programme and SANRAL's training of communities in areas close to our major road projects, we are committed to building a competent skills base in South Africa to support the objectives of the National Development Plan, whilst achieving SANRAL's transformation goals," Ndika said. 
Learners Speak 
Noluvuyo Ntayiya, 14, a Grade 9 learner at Sinethemba High School, said she hopes to become a doctor.  
"This expo has motivated me and given me an opportunity to learn more about what SANRAL does," Ntayiya said. 
Qhamokuhle Toyiya, 16, a Grade 9 learner at Vulamazibuko High School, said he plans to study nursing or architecture.  
"The speakers inspired me to work harder. I am glad SANRAL has told us more about the scholarship and bursary programmes," Toyiya said. 
Okuhle Mzileni, 12, a Grade 9 learner at Sandisiwe High School, aspires to become a doctor.  
"Being here left me feeling more motivated to study further," Mzileni said. 
Aphiwe Zembetha, 15, a Grade 9 learner from Sakhisizwe High School, wants to become an engineer.  
"I am now more eager to invest time in my studies. Listening to Mrs Ndika speak about what SANRAL does and their scholarship offering has made it easy for me to decide on a career choice." 
The scholarship programme, in its tenth year, will consider applicants with a 70-75% aggregate in Maths and Science, a 65% mark in English and an overall 75% plus pass rate. It pays for school fees, books, stationery, uniform, sports uniform and for hosting the learner at a gala dinner/luncheon. 
SANRAL's bursary scheme was initiated in 2007 and caters for students with outstanding academic performance in civil engineering and related studies in the built environment. 
For more information on the scholarship and bursary programmes visit www.nra.co.za.