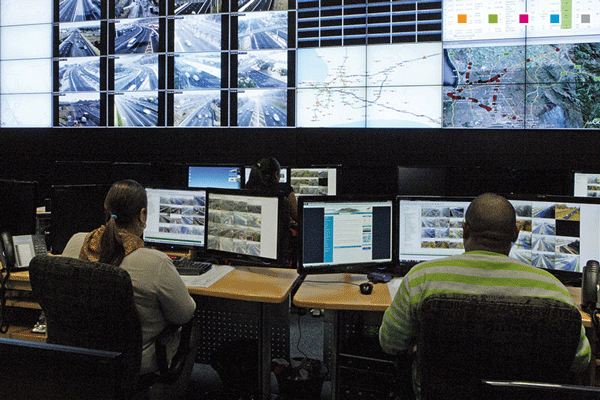 Coordinated action between SANRAL, the Provincial and City road authorities and traffic authorities in the Western Cape is contributing to effective responses to road crashes and the clearing of emergency scenes during the current heavy downpours.
By noon on Wednesday (7 June) its emergency teams had already responded to three multi-vehicle crashes and assisted 13 stranded vehicles during one of the most severe storms ever to hit the Cape Peninsula.
Randall Cable, SANRAL's Engineering Manager: Operations, said there are 239 CCTV cameras monitoring more than 160km of the busiest freeways around Cape Town. The monitor screens are observed by trained operators on a 24/7 basis and four road maintenance crews are on standby to clean up spots where flooding is detected or crashes occurred.
The Transport Management Centre (TMC) located in Goodwood is the hub of the rapid response to the Cape Town freeway network. Representatives from all regional safety and security services – Cape Town traffic and law enforcement, the Metro Police, Provincial traffic and SAPS – are present at the TMC to monitor the electronic images and activate their respective responses where required.
"All emergency services have real-time access to all SANRAL's technology," said Cable. "This results in effective communication, the sharing of resource and quicker responses to incidents on the roads."
In the first 18 hours after the storm arrived in Cape Town the SANRAL system have observed and managed the following incidents:
Three multi-vehicle crashes – at Mew Way, N2/Jan Smuts and M5 North;
13 vehicles that got stuck on the road during the downpour;
A fallen tree on the N1 outbound near the toll plaza; and
Flooding on the N2 outbound near Robert Sobukwe Road in Bonteheuwel.
Cable said SANRAL has 10 weather stations on the national road network in Cape Town. These stations provide accurate measurements for temperature, wind speeds, wind direction and overall visibility.
This information is relayed back to the road user through variable message signs on the freeways, social media and the I-Traffic website. Safety and security services are also given advance warnings about possible severe weather that may have an impact on safe road conditions.
Road users are advised to consult the i-traffic website at https://www.i-traffic.co.za/.