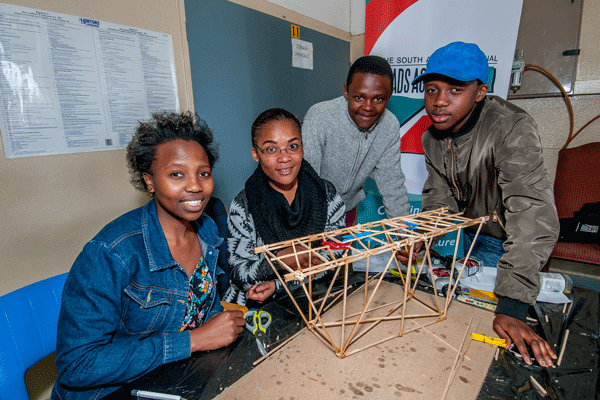 The South African National Roads Agency Limited (SANRAL) is developing new talent that will take South Africa to new heights when they hosted a model bridge building competition for high school learners in the Eastern Cape.
Skills development is an important pillar in South Africa's National Development Plan or Vision 2030 as it will ensure a capable workforce to support an inclusive growth path.
SANRAL along with Unity in Africa iGEMs and SMEC South Africa hosted a model bridge building competition in Struandale, New Brighton.
Thirty scholars from 18 high schools around Nelson Mandela Bay attended the competition and all they had to their use was pine wood, tubes of glue and some string to make their models.
The bridges were judged according to aesthetics and the weight the bridge was able to withhold before it collapsed. The aim of the competition was to teach the learners about the basic principles of infrastructure engineering.
The competition, which started two years ago, is based on The South African Institution of Civil Engineering's (SAICE) Bridge Building Competition.
Laurene Booth-Jones, programme co-ordinator, said: "Our first intake saw 16 students register on the programme and our second intake saw double the number. Our 'education to employment' programme offers students a practical understanding of the theory through learnerships at one of our partner companies. Learners who are passionate about engineering are our passion."
The first phase of the programme is Grade 11 and 12 extra classes. During phase two all the learners attend learnerships at one of our member companies. In phase three the student gets enrolled in university. The students get the opportunity to go back and work in one of the member companies in phase four.
Sean Strydom, SANRAL's Southern Region construction materials and project manager, said: "There is a need for employable, professional, well-trained engineers. iGEMs allows the learners that go through the programme to walk away with lifelong knowledge and experience.
"A Cape Town version of the programme (Go for Gold) has seen one of the program graduates receive a bursary from SANRAL. SANRAL supports youth development and we understand the need for it. We are pleased we were afforded the opportunity to host such a programme of stature here at the SANRAL Materials lab."
Tronél Candiotes-Strydom, professional technologist (Roads and Highways) at SMEC South Africa, also played a vital role in organising the bridge building competition.
Strydom said: "We are passionate about learners who are currently disadvantaged. We want to give these learners an opportunity to uplift themselves so that they have a shot at a better future. We just want to make the world a better place, and we are glad we had the opportunity to influence the lives of these learners in a positive way."