Bridge wins Fulton Award as it is a " testament to excellence in the use of concrete", said judges.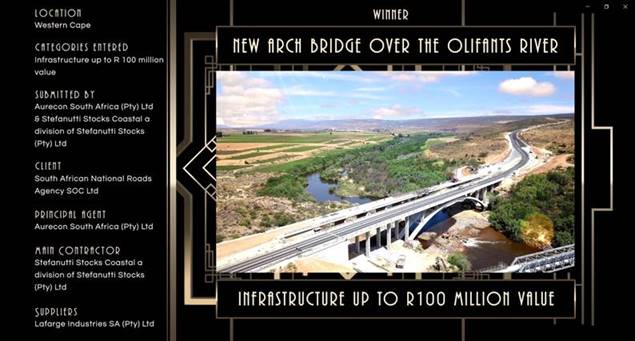 The new South African National Roads Agency (SOC) Limited (SANRAL) arch bridge on the N7 near Clanwilliam over the Olifants River in the Western Cape is this year's winner of the prestigious Fulton Award for excellence in concrete construction. 
The award acknowledges "the quality of SANRAL's design and engineering capabilities. It also underlines its ability to work with contractors, clients, suppliers and labour to deliver world-class projects," explained Louw Kannemeyer, SANRAL engineering executive. 
The bridge is part of the upgrading of the N7 from Cape Town to the Namibian border – one of the important trade and tourist routes in the country.  
It consists of the construction of a new road and bridge across the river adjacent to the present bridge, which was deemed to be unsafe and incapable of handling large volumes of traffic. 
It is 166m long with a 93m-long arch.  
The Fulton Award judges noted the attention to detail in design and construction, and the quality of the concrete finish, which make the bridge "a testament to excellence in the use of concrete". 
It is the highest honour bestowed by the Concrete Society of Southern Africa.  
It celebrates excellence and outstanding achievements in concrete engineering and architecture. It attracts more than 30 entries annually in several categories. 
SANRAL's award was for projects with a value below R100-million. The principal agent on the project was Aurecon, while Stefanutti Stocks Coastal was the main contractor. 
Another SANRAL bridge was commended by the Fulton Award judges. The Regents Park pedestrian bridge on the N17 in Gauteng is part of a broader project on the highway and consists of three pedestrian bridges and facilities. The other two are at Ergo Road and KwaThema.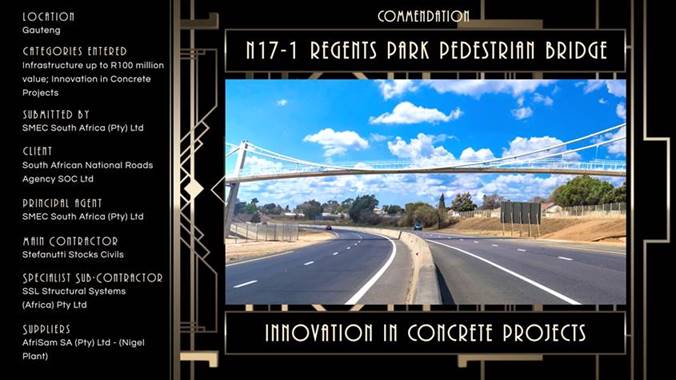 Regents Park was especially dangerous as the N17 carries up to 38 000 vehicles a day. The project improved safety for road users and pedestrians as well as providing a durable bridge, which will survive the realities of theft, vandalism and decay in an urban environment. 
The bridge was given a special mention by the Fulton Award judges.