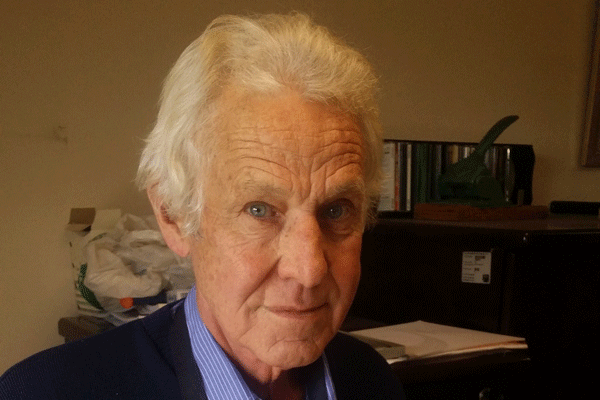 The South African National Roads Agency (SOC) Limited (SANRAL) is saddened to see Dennis Rossman, a world expert who advised on the construction materials used on South Africa's national roads network, retire.
Rossman, who retired on 30 June, served the roads agency's Eastern Region office in Pietermaritzburg for 47 years – without doubt one of the agency's longest serving employees.
Three days later, on Wednesday 5 July, 2017, he commenced duties in Pretoria as consultant and technical advisor in the private sector and to the road construction materials industry associations.
"I am still too young to hang up my boots," said Rossman. "I have loved my job and believe I have so much more to offer by way of product development and mentoring.
"I don't want almost five decades of experience and expertise to go to waste," said Rossmann as he packed cartons of files, books, brochures and certificates of awards and cleared the office he has occupied at the same spot almost all his working life.
Early life
Rossmann was born in Pietermaritzburg on 21 June 1952 and matriculated at Pietermaritzburg Technical College. He wanted to study electrical engineering but could not secure a bursary.
At a bus stop he met a friend who was working for the then Natal Road Department who suggested that he should apply to the department for financial assistance.
"I was given a bursary to study towards a three-year diploma in construction materials and pavement engineering at the then Pretoria Technical College."
His first posting upon qualifying was at Kelso on the KwaZulu-Natal South Coast during the construction of the N2 freeway between Illovo River and Hibberdene. He spent eight years in charge of materials and construction quality control at Kelso.
He was then promoted as chief technician at the National Department of Transport regional laboratory at Pietermaritzburg before becoming the deputy director of the National Department of Transport and being responsible for materials and quality control nationally. He recalls he would spend one week each in Pietermaritzburg, Pretoria and Cape Town.
Joining SANRAL
When SANRAL was formed in 1998, Rossmann became chairman of the construction materials, pavement engineering and geotechnical engineering cluster within the agency, a position he held until 2016.
Every design and tender document in the Eastern Region has had to be approved by Rossmann from a materials specification and pavement engineering perspective. He has also exercised oversight of quality control on projects.
At any given time, he would be overseeing 30 to 40 projects.
He was responsible for bringing into South Africa the technique of ultra-thin friction course (UTFC) from France – whereby a very thin asphalt layer is sprayed to give a smoother, quieter ride.
An avid writer
During his career, Rossmann spent whatever spare time he had writing several books, some of which have become the reference work for construction materials and pavement engineering.
In 2009, he co-authored Concrete Road Construction. He was very involved in the writing of the South African Pavement Engineering Manual. He was also on the editorial team for Guidelines for Low Volume Sealed Roads.
Presently he is working on the Standard Specifications for Road and Bridge Works for State Road Authorities which he describes as a "labour of love" and is being done for the Committee of Land Transport Officials (Colto).
He has delivered papers at several international and local conferences on roads engineering, and for eight years, he lectured on pavement engineering to masters level civil engineering students at the University of Stellenbosch.
Other positions held
In the early 2000s, Rossmann was chairman of the World Road Association-PIARC for two years and also served on the PIARC committee that focused on how to provide access to poor communities with low volume sealed roads.
He was chairman for five years of the Road Pavements Forum's committee for bituminous materials.
For his years of service to the roads construction materials sector, Rossmann was appointed honorary life member of the Society for Asphalt Technology.
In 2001, he won the Southern African Bitumen Association Excellence Award for outstanding achievement in asphalt technology. In 2016, the South African Roads Federation feted him with the President's Award for outstanding service to the roads sector in South Africa.
What does Rossmann think of the national roads network in South Africa?
"We certainly rate among the top five in the world – with the likes of France, Germany and Australia.
"Our roads are excellent and a large measure of credit must go to the vast amount of technical expertise we have had. We had great engineers – among the best in the world."
Although he will still be putting in many hours of work a day, Rossmann hopes to find some time to improve his golf.
He also wants to go off the SANRAL beaten tracks: bundu bashing in the Kgalagadi Transfrontier Park between South Africa and Botswana.