SANRAL invests R90-million for three new bridges across the N17.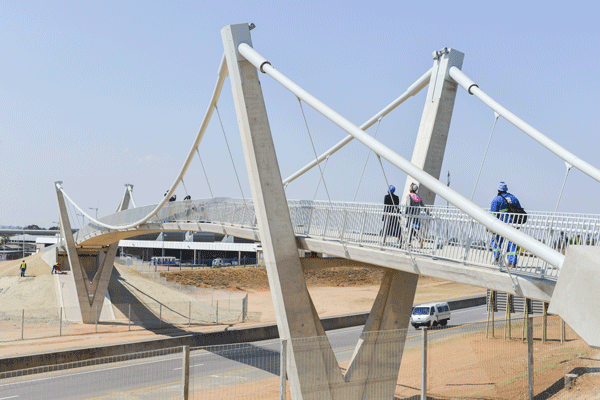 The safety of pedestrians on the East Rand has improved significantly with the construction of three new pedestrian bridges across the busy N17 between Springs and Johannesburg.
The three bridges constitute a R90-million investment in road safety and engineering excellence by the South African National Roads Agency (SOC) Limited (SANRAL), which is responsible for the management of this important regional road.
The N17 is a national toll route that runs from Gauteng, through Mpumalanga, to the Swaziland border. Pedestrian safety has been a major concern in the urban areas of Ekurhuleni and eastern Johannesburg.
Several pedestrians and cyclists trying to cross the busy double-carriageway have been hit by vehicles in recent years. SANRAL's solution was to construct three new pedestrian bridges across the freeway – in line with its commitment to provide safe road infrastructure.
The new bridges were completed in August 2017.
Safety needs of pedestrians and cyclists paramount
SANRAL Project Manager Tshidi Lethale said: "An important part of our work is to ensure our roads are safely engineered for all road users.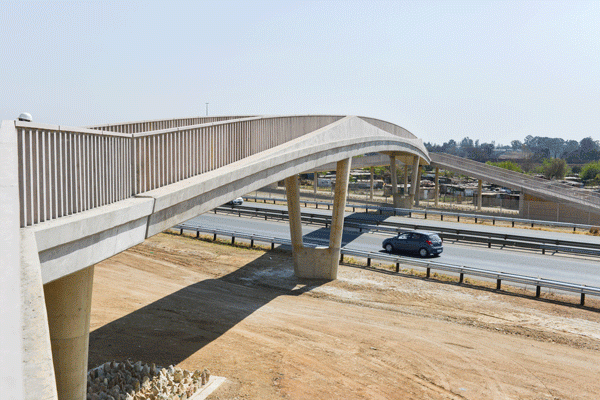 "Pedestrians are the most vulnerable road users. That is why the safety needs and requirements of pedestrians and cyclists are considered in the planning, design and implementation of road infrastructure."
No details were spared during the design and construction phases. The bridges are maintained and inspected rigorously.
All the bridges have rest points for the elderly and disabled, while concrete bollards at the entrances prevent cars from driving on the surfaces.
In the Springs/Brakpan area, an 82.4m-long pedestrian bridge was constructed to cross the freeway at an angle. Stone pitching was placed beneath the bridge to prevent people from making fires that could compromise safety and cause the bridge to deteriorate.
Slightly to the west, another bridge now connects KwaThema with Springs and Brakpan. Closer to Johannesburg, the N17 passes close to busy public facilities such as Wemmer Pan, City Deep and the Joburg Market.
The new KwaThema pedestrian bridge will address major safety concerns related to people crossing the freeway at a stretch that carries a lot of traffic.
The new self-anchored suspension bridge has a main span of 57m, with a reinforced concrete deck suspended from stress bars. The new SANRAL bridges are welcome additions for the communities whose lives are being improved.
"The bridge changed our lives," said Sibongile Sibiya, the ward committee member representing the Mkhancwa informal settlement in the Springs/Brakpan area. "Before the pedestrian bridge was constructed, there were multiple deaths."