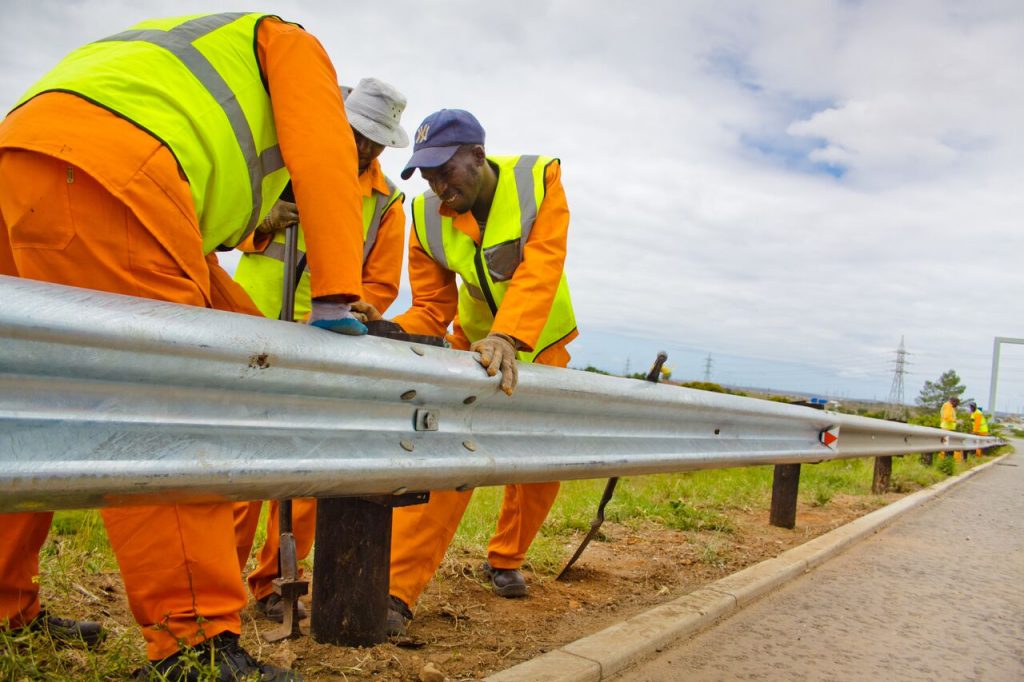 President Cyril Ramaphosa identified infrastructure development as the flywheel that will kickstart South Africa's economy post-COVID-19, and SANRAL is committed to expanding the net of economic inclusion for emerging black businesses to participate in its projects.
Routine road maintenance (RRM) projects create jobs across the country and enable  SMMEs to access economic development opportunities which benefit not only small businesses and local labour, but regions at large.
RRM and other improvements are essential activities to keep our road systems in top shape. In 2019/20, SANRAL extended RRM contracts worth more than R2.5bn. RRM entails, among others, cleaning drains and culverts, vegetation control, line marking, guard rail repair, road sign repair and road patching.
All SANRAL projects are designed to drive transformation in the industry by offering small contractor development support as well as training and community participation. RRM activities are also an opportunity for local SMMEs to get skills development and training through on-the-job experience.
To take the Northern Cape as an example, the agency has committed more than R4bn to road maintenance and improvements over the next three years and a large portion of this will go to SMMEs. Of this, approximately R500m is specifically set aside for RRM. Between 40% to 60% of this value is specifically targeted at SMMEs, including approximately R50m for entry-level road maintenance subcontractors. As just one example, in Naledi Local Municipality in North West, two RRM projects cover 155.70km on the N14 section 9, NN18 sections 4 and 5 and R31 section 1, as well as 163.50km on the N14 section 8, and N18 sections 2 and 3. The main contractor has been appointed and plans are under way to ensure that 50% of the contract, i.e. R58m that must be subcontracted, benefits as many SMMEs as possible.
SANRAL projects are district-based and municipal-based. "This makes it possible for us to resolve community concerns related to our mandate. This grassroots approach ensures that we create opportunities within all the communities we service," said Ernest Nqenqa, SANRAL's Northern Region Project Manager.
SANRAL projects require the establishment of a Project Liaison Committee (PLC) prior to contract work being issued. The key role of the PLC is to ensure that there is transparency on how labour and sub-contracting opportunities are awarded and, most importantly, that the local community is integrated as constructively as possible.
SANRAL has a 14-Point Plan to facilitate better project level liaison with local communities and structures. The Plan serves to ensure communication and transparency in the execution of works, ensuring inclusivity in allocation of projects to benefit black business and local communities.
The agency remains committed to SMME development and community engagement in the quest to transform the industry, as well as its overall strategy Horizon 2030 that is aligned to the government's National Development Plan.