SANRAL HACKATHON FOR YOUTH
SANRAL understands the importance of South Africa's knowledge economy, built from knowledge sharing, skills transfer, collaboration and innovation. The agency is fully committed to developing this part of the industry. Recently the roads agency and Electronic Toll Collection (ETC) partnered with WhereIsMyTransport to host the ETC Hackathon in Cape Town. With the theme Collaborate & Innovate, participants in the Hackathon were invited to create innovative smart mobility applications using both Gauteng Freeway Improvement Project (GFIP) toll gantry data and WhereIsMyTransport public transport related data.
SANRAL, which manages the world's 10th largest national road network, has for some time been operating in the digital space, with the use of its Freeway Management System that includes dedicated cameras on 520km of the busiest freeways across the country. Here real-time traffic data is collected and used to determine how best to respond to incidents on the road.
The Hackathon was sponsored by ETC, which was established in 2009 to supply and manage an integrated tolling system on behalf of SANRAL.
The system handles 550 000 transactions per hour, which equates to 155 transactions every second. ETC made a random selection of transactional data available to the participants, with which they could work with to create a mobile solution that aids safe and improved road user experiences.
Some of the proposed avenues include drawing usage/behaviour patterns, analysing traffic volumes, customer service centres and identifying foreign vehicles.
/ YOUTH DEVELOPMENT PROJECTS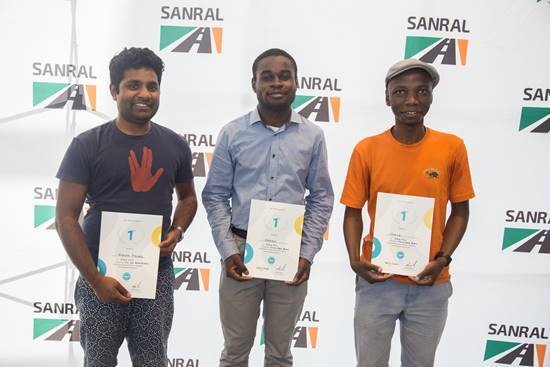 The role of innovation in mobility for our evolving cities was the background against which participants were encouraged to think 'out of the box'.
Through the WhereIsMyTransport API, they gave participants access to all the main public transport platforms – bus, taxi, train, walking routes, etc – that could be integrated to best achieve usable public transport solutions.
The hackathon ran for a whole weekend and participants presented their solutions to a panel of judges on the final day. The winning team, which conceptualised a mobile solution that delivers turn-by-turn public transport directions via SMS or WhatsApp, walked off with a R20 000 cash prize and a year's worth of free access to the WhereIsMyTransport Public Transport API.