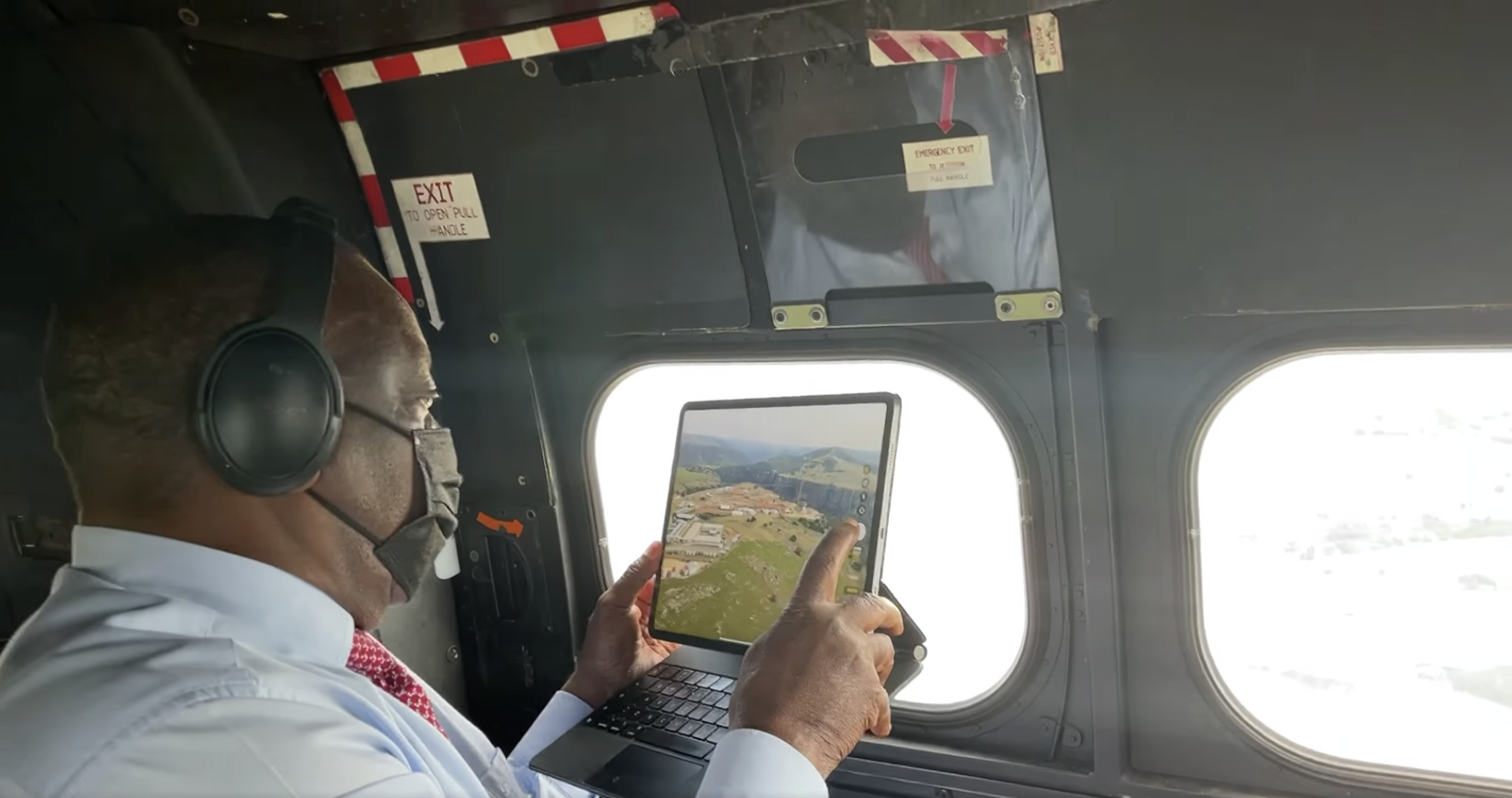 "It is not far-fetched to say that years from now, this N2 Wild Coast Road will enable an entrepreneur from Lusikisiki to transport their goods onward to Gaborone, to Lusaka, then to Dar es Salaam. It is not inconceivable that a bus from Kinshasa in the DRC will be able to bring tourists directly to the Wild Coast." So said President Cyril Ramaphosa at his recent visit to the Msikaba Bridge site on the N2 Wild Coast Road (N2WCR) project near Lusikisiki in the Eastern Cape. He described the project as world-class and called on local communities and traditional leaders to support it.
The R1.65 billion Msikaba Bridge is one component of the 410km N2WCR, which will link the Western Cape, Eastern Cape, KwaZulu-Natal and Mpumalanga, and improve connectivity between SA and Mozambique, Swaziland and Lesotho.
The N2WCR is one of SANRAL's flagship projects, which will lead to the creation of 8 000 full-time jobs and 21 000 – 28 000 indirect jobs.
President Ramaphosa said, "This translates to a wage bill of around R750 million. Both skilled and semi-skilled people have already been employed on this project. Once the road is completed, ongoing maintenance work is anticipated to create another 900 direct full-time jobs and around 19 000 indirect jobs."
These numbers affirm SANRAL's commitment to sustainable job creation. Over the past year alone, SANRAL has created 17 760 job opportunities at its various projects around the country.
The Msikaba Bridge is one of two mega bridges which are part of the N2WCR project. The other is at Mtentu, about 64km away, which will be one of the highest bridges in Africa and one of the longest in the world.

FAST FACTS
Msikaba Bridge
Cost R1.65bn
580m long, cable-stayed
Completion by end of 2025 or beginning 2026
Supported by two 127m high pylons
Third highest in Africa
Deck will be 194m above the valley
The President said that the project has huge socio-economic and enterprise development benefits. "By regulating that a minimum of 30% of expenditure is earmarked for targeted enterprise subcontractors and suppliers, approximately R4 billion will in future flow to SMMEs from the OR Tambo and Alfred Nzo Districts. This will ensure that the investment on this project will be ploughed back to communities. Already some R120 million has gone to local SMMEs as part of upgrading and linking of roads, and there are several more projects in the pipeline."
He said that at Msikaba the community participation goal for targeted labour set by SANRAL was exceeded at the end of July, reaching 37%. "Sixty-two per cent of the total work force on this site are locals. Of the 329 employed, 156 are employed by the main contractor, and 173 by subcontractors."
President Ramaphosa added that the project would also have a positive environmental impact. "The N2 Wild Coast Region Biodiversity Offset Programme will result in the Silaka and Mkhambathi Nature Reserves being expanded, and lead to the creation of several new protected areas in the Pondoland Centre of Floral Endemism totalling approximately 20 000 hectares."
The highway will narrow travelling distances and time, and will also be safer. Added Ramaphosa: "There is the benefit to tourism from both inside and outside the province. There is the benefit to the provincial and national economy. This highway will support the transportation of goods and services to the entire Southern African region.
In this way, he said, the N2WCR supports "not only our domestic priorities, but the economic integration agenda of the African continent".
"With the coming into operation of the Africa Continental Free Trade Area in January this year, I can certainly see this project playing a key role in the movement of goods and services to a continental market," he said.
"Through the Programme for Infrastructure Development in Africa (PIDA) we have a common framework for African stakeholders to build the infrastructure necessary for more integrated transport, energy, ICT and trans-boundary water networks to boost trade, spark growth and create jobs. In this regard, the N2 Wild Coast Road project will no doubt play an important role.
"We are committed to ensure that we grow our economy through infrastructure development. Infrastructure is the flywheel of our economic growth," he said.
"What is most beneficial about massive infrastructure projects such as this one, is that the yields are sustained over a prolonged period."
Fly with President Ramaphosa over part of the N2WCR project, to gain an idea of its scale, at https://fb.watch/8h9ybIjt1d/