The South African National Roads Agency (SOC) Ltd (SANRAL) is using its technology to make travelling on South Africa's world-class roads even more pleasurable.
Practical, real-time information on travel times between key points is now conveniently available.
"Accurate real-time travel times will be displayed on Variable Message Signs (VMSs) which are located on the major national highways. Real-time travel time information will also be reflected on email and SMS alerts and on the website through the Advanced Traveller Information System (www.i-traffic.co.za) to enable pre-trip planning," said Gail Bester, Project Manager: Traffic Management.
The VMSs will be set to display travel time in minutes from the VMS location to various destinations on national highways, when it is not being used to alert motorists of incidents, congestion or other road conditions.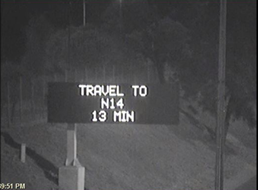 The Advanced Traffic Management System makes this possible though a complex algorithm which consolidates real-time information data from probes such as tracker devices, cell phones and navigation systems on many thousands of vehicles, as well as traffic sensors erected next to the highway. These two information sources are used to determine average vehicle speeds and volumes. This is then used to calculate the estimated travel times between various points.
"The aim is to allow motorists to make informed decisions on the route they are travelling in order to arrive at their destinations on time and safely. So, next time you are asked "are we there yet" you will be able to answer and provide the remaining time," continued Bester.
As of 1 September 2015, average speed data will be displayed on the www.i-traffic.co.za web site as well the corridors listed below which will be activated between this date and October 2015.
Corridor 1– Travel times will be displayed on VMS on the N1 (Brakfontein to Proefpass) and the N4 (Proefpass to Donkerhoek).
Corridor 2: Travel times will be displayed on VMS on the R21.
Corridor 3: Travel times will be displayed on VMS on the N3 (Buccleuch to Heidelberg Road).
Corridor 4 to 5: Travel times will be displayed on VMS on the N1 (Brakfontein to Buccleuch), the N12 (Gilloolys and Putfontein) and the N17 (Elands to Dalpark).
Remaining corridors: N1 Western Bypass and the N12 Southern Bypass.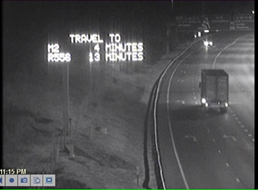 One of SANRAL's primary objectives on the roads is safety. Its investment in technology is improving the quality of post-crash responses and leads to sustained reductions in the response time of emergency vehicles. The national and provincial highways managed by SANRAL are being converted into "smart roads" through a freeway management system which includes CCTV cameras that relay the information to Traffic Management Centres and allow operators to detect crashes.
"Freeway management systems have already been deployed in Gauteng, Kwa-Zulu Natal and Western Cape and are being expanded and enhanced to ensure that responses to incidents are even more efficient. As our road user, your safety is our concern", said Bester.
For any comments and queries Traffic Management Centre can be reached on 012 762 4300.