Port Elizabeth can count 18-year- old, Theresa, as one of its exceptional young achievers who is striving to make an impact in the medical industry.
Theresa, a former matric pupil at Collegiate Girls' High School, was a SANRAL scholarship recipient in 2014. She was selected because her results were excellent, and for an essay she wrote on her future goals in which she spoke about the science-based careers she was considering.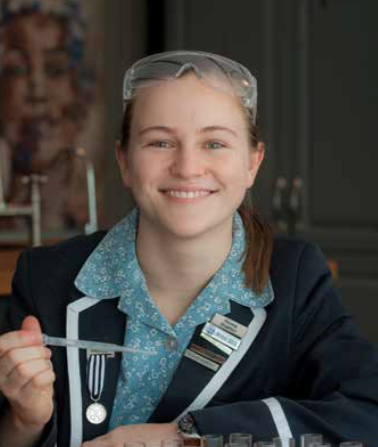 SANRAL and Nelson Mandela Metropolitan University (NMMU) have hosted the Science, Technology, Engineering and Related Management/Mathematics (STEM) Fields Pipeline Project since 2000. The primary objective of the initiative is to promote and develop the physical science skills of Grade 10 to Grade 12 learners in the Eastern Cape, and to ultimately increase the number of learners qualifying to study for degrees in science and technology.
"The STEM programme is very helpful. Learners get to explore the practical side of the syllabus. The experiments help us understand the work better. We got to build atoms and saw how these worked," said Theresa.
---
In the recent Matric of the Year competition, Theresa won the academic category. Her other achievements include:
– First place in the province in the annual ATKV Afrikaanse Olimpiade for two years in a row (2014 and 2015)
– Selected as a member of the International Young Mathematics Convention team that participated in India (2014)
– Winning the Royal Society of Chemistry award at the Eskom National Science Competition (2014)
– And being invited to represent South Africa at the Intel International Science and Engineering Fair in Pittsburg, USA (2015).
---
On top of all of this, Theresa was head of her school's debating society, she plays the clarinet and recently completed her grade 8 Trinity music syllabus.
She plays social tennis, enjoys French cooking and loves ballroom dancing. She is passionate about French culture and is also learning to speak French.
As a member of the International Young Mathematics Convention team, Theresa was able to attend a school in Lucnow, India. She described the experience as "extremely amazing".
"Lucnow has two or three campuses and between these there are 50 000 learners. They are extremely intelligent. Some were already finishing high school at the age of 14. To compete against people of that calibre is an amazing experience.

I have dreams for South Africa and I would like to thank SANRAL for giving me an opportunity to take a step closer to realising dreams of my own."
Theresa will be following in the footsteps of her father, Dr Hannes Brummer, by studying medicine at Stellenbosch University.
But unlike her father, who is a urologist, Theresa plans to specialise in pathology or surgery. Her parents are her role models.
"My mom is my rock. She's always there for me. I can call on her anytime when I have a bad day. She's taught me to be optimistic. My dad is my big inspiration. We're very much the same person, focused and passionate about our work."
Theresa's advice to other youngsters is that even though school work is important if you don't get the results you want, work to turn that negative into a positive and set yourself new goals.