Pilot Crushtec and SANRAL enter into MoU to promote transformation and empowerment in South Africa.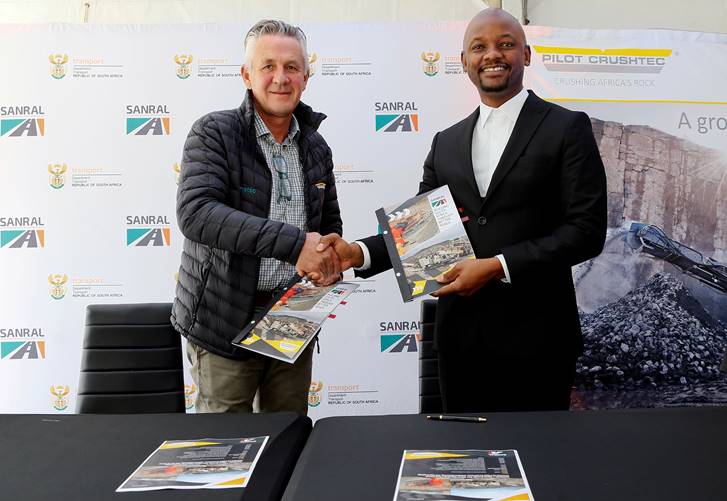 South Africa has the largest and, arguably, best road network on the continent. The continuous expansion and maintenance thereof generate billions in revenue and employs tens of thousands of individuals.  
The barriers to entry for newcomers wishing to take advantage of this lucrative sector are, however, restrictive due to high cost of capital equipment and lack of expertise within the field.  
It is with this in mind that Pilot Crushtec and SANRAL have signed a memorandum of understanding (MoU) that will, among others, give small to medium enterprises access to expertise and machinery required to tender and execute major SANRAL projects. 
Pilot Crushtec International was founded in 1990 and has established itself as southern Africa's leading supplier of mobile and semi-mobile crushing, screening, recycling, sand washing, stockpiling, compacting and material handling solutions. 
A win/win situation 
Entering the MoU made perfect sense for both SANRAL and Pilot Crushtec.  
As one of the industry leaders in the sector, Pilot Crushtec is well placed to be able to equip up and coming contractors and quarry owners with the opportunity to be educated by their team of experts who have over 30–years of experience in the field on how to get the most out of their operations.  
Francois Marais, Pilot Crushtec sales and marketing director, said: "Additionally, we would really like the opportunity to promote our locally produced products for road building. 
"These products are world leaders in the space and are exported to a number of international locations for manufacturing top grade road stone and aggregates. 
"Both new, and existing clients will benefit from this initiative as we will be sharing our best practices and expertise in the quarrying and road stone manufacturing environment in order to ensure that south African roads are built using the best materials available."   
Skhumbuzo Macozoma, CEO of SANRAL, said: "It is our intention, with MoU's like this, to open up the industry to new participants and remove many of the barriers that prevent companies owned by black people, women and youth entrepreneurs and other designated groups to compete effectively against the entrenched players in the construction sector. 
"We hope that, via our co-operation with Pilot Crushtec we are able to promote growth of black business and take constructive steps to support a sector that has immense potential for growth and job creation." 
Macozoma said the partnership is proof that SANRAL's efforts to transform the sector and promote fair competition are delivering results.  
He added: "Lack of access to sophisticated machinery and equipment is a major barrier for small contractors and prevents them for participation in large tenders. By working together with established companies, we can remove these barriers and enable black-owned companies and enterprises owned by women and the youth to participate on a level playing field.  
"This step will, no doubt, have a ripple effect within the construction and engineering industries and also benefit job creation within local communities where smaller enterprises now become part of the supply chains on larger projects." 
Benefits 
The MoU will deliver several benefits to Pilot Crushtec, SANRAL, new contractors and the industry at large.  
"Giving us access to young, up and coming contractors, who will get a chance to learn from our experience, is just the beginning. We will also be able to educate new contractors on how to produce the best quality road aggregates which will, by extension, improve roads across the country," said Marais.  
"We also produce and manufacture equipment locally that gets exported internationally for production of road aggregates, and it's the best of its kind in the world. That said, there are cheaper imported products used in the country which may lead to inferior end-products being used in our roads. Case in point is our Twistertrac VSI which is used to create perfectly shaped road stone that is of the highest quality found internationally. 
"It is our hope that, by collaborating on issues of financing, buy- back options, training of small contractor's asset management and utilisation of crushing and screening machinery equipment, we can ensure a vibrant, robust industry for many years to come," concluded Marais.