Extensive overloading of trucks on the N2 restricted by dedicated staff who weigh and check trucks for road-worthiness.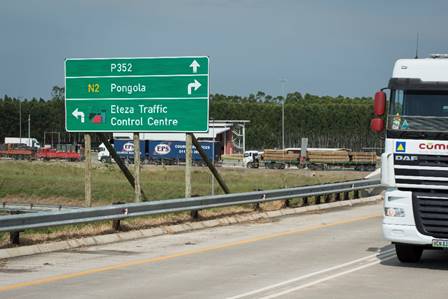 The Eteza Traffic Control Centre on the N2 in northern KwaZulu-Natal is helping curb the overloading of trucks that has resulted in a marked deterioration in the condition of the province's road network. 
Damage to roads because of overloading leads to higher maintenance and repair costs and shortens the life of a road.  
This in turn places an additional burden on the state as well as law abiding road users who ultimately carry the costs of careless and inconsiderate overloading. 
At the overload control facility at Eteza, heavy vehicles of more than five tons gross mass are weighed. Drivers of heavy vehicles will be issued a fine if the vehicle exceeds the permissible mass on gross mass and/or axle unit mass. 
The overload control facility is also used to inspect the roadworthiness of vehicles on a 24-hour basis. 
Eteza processes 200 trucks a day 
Behind a large screen in the control room, Samkelisiwe Ndebele watches trucks awaiting their turn on the weigh-in scale. 
Satisfied that the next truck is now ready to be weighed, she speaks into the microphone: "Driver, please move forward." 
The truck roars forward and stops on the scale where Ndebele and colleagues have an unobstructed view through a large glass window. 
Once she is satisfied with the reading on the computer, she clears the truck to proceed. This is one of the main duties performed at the centre, which processes an average of 200 trucks each day. 
"Weighing the trucks helps the community at large by taking over-loaded trucks off the roads as they often are the cause of accidents. That is how we are trying to limit the problem that we are faced with," said Ndebele. 
Peter Phiri, a truck driver bound for Johannesburg from Richards Bay, said: "The facility at Eteza ensures that we comply and carry the permissible load. I don't have any problem with the service here. They are quick to take your particulars and weigh your truck." 
David Makhoba, manager of the traffic control centre, which employs 23 people, said apart from weighing trucks, the roadworthiness of vehicle was also checked. 
Steven Sipho Nkosi, superintendent of the traffic police in Mtubatuba, said they worked closely with the Eteza traffic control centre to help enforce the law on the roads, particularly the busy N2. 
"The common offences are speeding, drunken driving, operating unroadworthy and unlicensed motor vehicles. 
"The traffic centre has helped to reduce overloading of vehicles, which damages the roads. The humps on the roads caused by overloading lead to accidents because people lose control of the vehicles due to the bad road conditions."