Most of the blasting is done to improve the horizontal and vertical alignment along a cutting.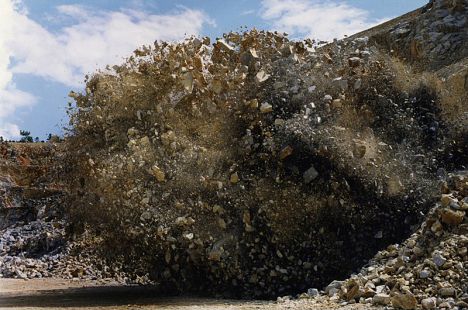 There is not a lot of blasting on South Africa's national roads. But, when there is, it is good to know that it is always handled by experts.  
But why blast?  
In technical terms, most of the blasting is done to improve the horizontal and vertical alignment along a cutting.  
More simply, it is necessary when widening a road, smoothing out curves and improving sight distance, all of which are major contributors to better road safety.  
SANRAL does not undertake blasting.  
Rather, the job is handled by a contractor who has a proper blasting licence and uses specialist blasting sub-contractors with safety personnel in attendance.  
Blasting is carefully circumscribed: It is the controlled use of explosives to break rock for excavation and to reduce the rock to a size suitable for use in road construction.  
Before any blasting can commence, the area is cordoned off and all people, livestock and vehicles are moved to a point of safety.  
Barricades are erected and are manned to prevent any movement back into the area. It is then declared safe.  
The police are present to assist, the area is again checked, and sirens are sounded.  
After the blast, qualified personnel go back into the area to make sure all is safe.  
Debris is cleared, barricades and signage removed and only then is the road reopened for all. 
Strict rules for blasting 
Where and when it is necessary to do blasting to upgrade a road, strict rules apply.  
People living in the area where blasting will take place, as well as motorists, are warned well in advance. 

 

Nobody is allowed within 500m of the blast and safety personnel ensure that no individuals or vehicles enter the blasting area. 

 
The most recent blasting took place on the R72 Section 3 (KM 49.24) to Section 4 (KM 16.0) between Birah River and Openshaw Village on Tuesday, 15 October from 3pm – 5pm.