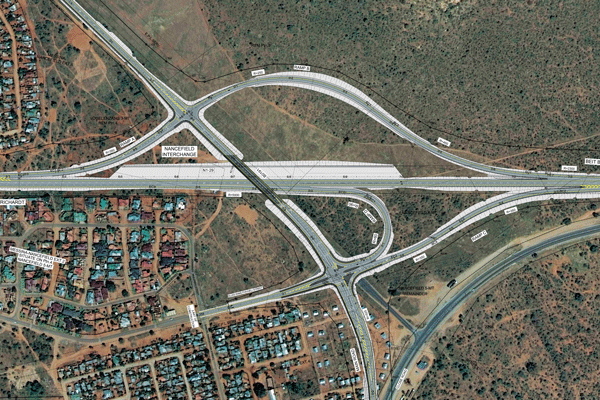 One year after construction started on the Musina Ring, north of Limpopo, it is on schedule to be completed on time, unless weather conditions prevent the completion.
Climate conditions is the only factor standing in the way of the road's completion within the next 18 months
The R625-million project by the South African National Roads Agency (SOC) Limited (SANRAL) will divert traffic from the Beit Bridge Border away from Musina CBD and result in major improvements in road safety and less damage to vital infrastructure within the town.
Ben Botes, resident engineer on the project, said trucks travelling to and from Beit Bridge are causing major damage to the road infrastructure in town.
Traffic is heavily congested as heavy-duty vehicles share the narrow roads with other road users and pedestrians. Heavy traffic passing through the Musina CBD poses a danger to pedestrians and the local business community have raised concerns about access to their premises.
Botes said: "The Ring Road will ease congestion and reduce the dust blown up by traffic which creates health problems among residents, it will also save travel time to the road users and reduce vehicle operating costs."
Job creation and business opportunities
Local residents will benefit through the project in the form of job and business opportunities.
The project includes the building of nine big structures, five bridges and four in-situ culverts. Local sub-contractors are involved in the construction of these structures.
Owen Simba, site manager at Makali Construction said: "We are busy constructing the nine structures required for the road construction, the bridges and the culverts at an investment of R114-million.
"We have employed 12 skilled labourers as well as 23 local general workers and as the project progresses we will start hiring more people."
SANRAL is committed to creating equitable access for small contractors, particularly black-owned enterprises through its procurement processes.
Baldwin Luvhengo, a previously unemployed general worker who is now benefitting from the project, said: "It feels great to work again and now I am able to look after my family and put food on the table. I am saving some money to get a certificate in the construction field when the project is complete."
Community liaised with properly
The 8km project runs through the Nancefield community which necessitated the relocation of 30 households. SANRAL sent a consultant to each household to negotiate the relocations.
"It was agreed that they will receive the same size structure they had in Nancefield. The community is happy with this arrangement and are looking forward to the move," said Petrus Mbedzi, the project liaison officer.
Botes said the project also consists of a barrier wall that will minimise noise levels for the households living next to the road.
He said: "I am confident that road users and the residents will soon start to enjoy the benefits of a newly constructed Musina Ring Road."