It was a wonder to see a Mirage on the N1 between Pretoria and Johannesburg. It paid a national road visit in the early hours of 24 September, Heritage Day.
The aircraft left the Waterkloof Air Force Base at 5:30 am

and reached the Halfway house in Midrand by 9: 00 am.
It involved the cooperation of SANRAL and the Gauteng Traffic Police.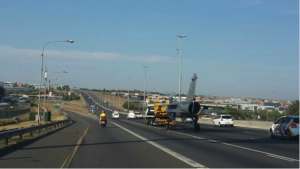 The public was asked to avoid the affected routes and alternatively, those who had to use the route were asked to exercise caution and patience. What was allowed was passing to the right of the aircraft; after all, it is the slowest on the road.
In addition, Mobile Police Vehicles (MPVs) and SANRAL's Routine Road Maintenance team were on hand to provide assistance. All necessary permits had been applied for and approved.
Surprise, surprise!

As the Mirage passed under gantries, it had to pay toll, setting an example to many road users.