SMMEs, their owners and employees benefit from the exposure of being involved in a major construction project.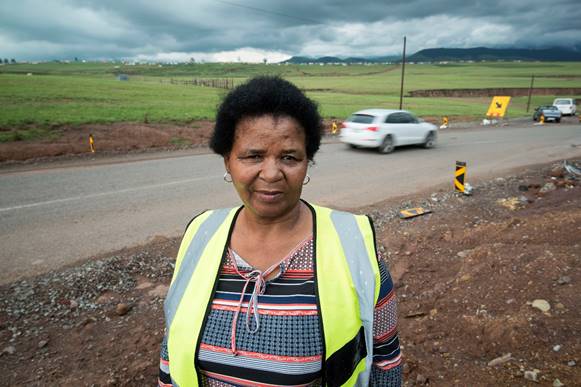 Kholeka Motolwana cannot hide the joy and satisfaction she derives from having given a lifeline to the more than 15 people employed at her construction company who are working on the R61 All Saints Baziya road project in Eastern Cape. 
Motolwana is a director of Southern Ambition 313, which started work on the project in the middle of 2016. 
Initially her core work on the project was fencing, but she has now acquired other skills that have enabled her company to take on more responsibility. 
"I have learnt a lot. I got exposed to machinery that I was never exposed to before. I also learnt the terminology and gained experience. It gives me pleasure to be involved in this industry because we have always thought that this was only meant for men," she said. 
Her greatest pleasure is being able to create jobs. 
"Some of the people I work with had been retrenched in places as far away as Cape Town and Joburg, and they were forced to return home to here in the Eastern Cape," said Motolwana. 
"Some of them are semi-skilled and some of them are very good artisans. Now that I have employed them, they are able to put food on the table. It makes me feel good to be able to help people." 
Growth of SMMEs 
The sentiment also rings true for Khanyisa Okuhle Nwelende, Director of Seriti sa Basotho Trading Projects, which is building concrete line drains on the same project. He started work in April 2016 and now employs 22 people. 
He worked for a building contractor for four years before deciding to start Seriti sa Basotho and tendered for this project. 
Nwelende said: "I'm turning 28 this year. I really think it is very important for the youth to be part of this project because if you start while you are young you gain more experience. So, as your company grows, you also grow with it in terms of experience. 
"I'm very proud of our achievements. Firstly, the company was on grade 1 on the CIDB when we started and we are now a grade 4. Secondly, the company itself has grown. We now own a bakkie and a truck that we managed to get through doing this project."  
Nwelende added that the workers have also benefitted as they are able to build themselves houses and assist their families. 
Thembinkosi Ngxangane of Ezakuthi Civil and Construction, which employs 15 people, started in January 2017 and was sub-contracted for the toe drain and grass box work. 
Ngxangane said: "On this project my company was able to benefit a lot because we were nothing before, but now, we can do things for ourselves, especially with the 12% requirement of the local SMMEs share that SANRAL has given to us. 
"I can say my company has benefited plus-minus 2.5% because the SMME share in this project is R42-million. So, the work I've done already is around R1.2-million, which is around 1.5% out of the subcontractors on the project." 
Ngxangane hopes that working on the project will help him to be able to invest in machinery, which would help his company grow and secure bigger contracts. 
"In this industry the one thing I have noticed is that many companies invest in is machinery. This would make my business very lucrative if I went this route. I have also seen that even when there is a new contract, the SMMEs who earn the most are the ones who come into the project with their own machinery," he said. 
Positive results of the project 
Ngxangane said even though the project is not yet complete, they have already begun to see positive results of their work. 
"Our road was a high accident zone previously. When SANRAL explained their design to us, we saw it as one that would work and really help decrease the high accident rate." 
Ngxangane said there were a lot of steep hills on the road, which led to many collisions. But with the new design the number of steep roads has been reduced, leading to a better flow of traffic. 
"Our roads were very narrow, and they have now been widened and have clear markings," he said. 
The new bridge built over the great river Mbashe has also made traffic flow easier and is safer for pedestrians as it has walk ways and secure railings. 
Motolwane said working on the project was a good learning curve and they were helped by SANRAL's support in providing engineers who assisted and guided them through the work. 
"I would like to thank SANRAL very much for the opportunity they have given us. There are meetings that SANRAL sits in on and check how we are doing, and those meetings help us a lot. As a local in this area I have noticed that the roads are much safer now compared to before. There used to be a lot of accidents on the road, but now the road is wider, and we are very grateful for that," she said.