The expo seeks to expose rural schools to SANRAL's career opportunities, internships, scholarship and bursary programmes.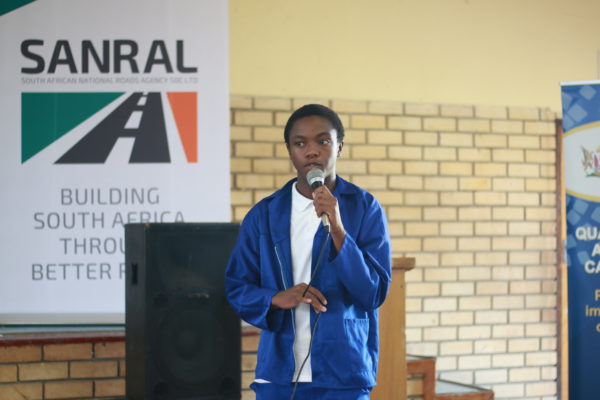 The South African National Roads Agency (SOC) Limited (SANRAL) recently hosted a Career Expo in partnership with the Eastern Cape Department of Education (DoE). 
The Career Expo was aimed at SANRAL sharing information on its bursary, scholarship and graduate programmes. It also provides a platform for nearly 3 000 Grade 9 and Grade 12 learners to make an informed decision pertaining career choice. 
This is an annual event with the purpose to empower, inform, educate and create awareness around careers in the construction and related industries.  
SANRAL is committed to developing skills of the learners who have an interest in civil engineering, construction and other career paths. 
Welekazi Ndika, SANRAL Southern Region Stakeholder Relations Co–ordinator, said: "The expo seeks to expose rural schools to SANRAL's career opportunities, internships, scholarship and bursary programmes. It is also aimed at increasing SANRAL bursary and scholarship beneficiaries in the province.  
"The expo featured several exhibitors from various industries to share information about other career choices." 
A dream 
At the expo, Sivuyise Gada, a 14-year-old Grade 8 learner from Zwelitsha zone 4, shared his dream of becoming a mechanical engineer at SANRAL's Career Expo at Ginsberg Community Hall in King William's Town. 
Gada, a learner at Hector Petersen High School, was one of the event speakers who addressed nearly 500 Grade 9 learners.  
He won a career dress–up competition that was held at the East London International Convention Centre (ICC) in 2018. 
Gada said: "What made me stand out from my peers is passion and interest in this field of study (mechanical engineering)." 
He told the learners mechanical engineers "are always in demand and it is like having a passport to getting into many industries".  
Some of the fields mechanical engineers deal with are the design of automotive parts, aircons, elevators, and machines, he said. 
"I want to help my community. I want to fix their cars at a reasonable price. You can design machines or automotive parts and work in various industries," said Gada. 
Mathematics is essential 
Lunga Mnyatheli, a Deputy Chief Education Specialist (FET Humanities) at the Eastern Cape DoE, said his message to learners was on scarce skills and personal development.  
"Today we are here to share very critical information about careers with Grade 9 learners, and it is very important to choose wisely because the choices that you make during your school years will determine your future." 
Mnyatheli said 99% of careers in engineering need pure mathematics, the students must aim very high and not settle for level 2 -3 in their results. 
Kaoma Mwansa, a 15-year-old from Westbank High School, acknowledged that not every learner knows which career to choose after matric.  
"This career expo will help us make informed decisions. We have been exposed to other career paths that we can follow," Mwansa said. 
"We are still in high school, some of us are not really aware of other careers other than being a doctor, lawyer, journalist or a teacher. This is a good initiative, it will help us explore other career choices and be informed," said Mila-Anda Ntantiso, a 14-year-old from Charles Morgan High School in Ginsberg township. 
Ndika added that SANRAL is committed to contributing to the development of human capital in South Africa so it can realise its potential. 
"We need young engineers who can design and build quality roads. We can't do this without people who have foresight. Grab the opportunities presented to you. Work hard to get good grades. We offer scholarships to high school learners, but there is a criteria and bursaries are offered to university students," Ndika said. 
Scholars were asked to share their strategies on how to achieve higher marks. Reholele Matubatuba, 14, from Bhisho High School said: "I believe that I have to draw up a timetable that will guide me and manage my time in order to get better marks." 
Career exhibitor from the Department of Agriculture, Forestry and Fisheries, Amanda Damane said; "A lot of people think that agriculture is all about farming. They do not know that there are other aspects to it, like agricultural engineering and food science, I encourage learners to explore careers in agriculture because there are exciting career paths that they can follow." 
Scholarships and bursaries 
Now its 10th year, SANRAL's scholarship programme will consider applicants with a 65-75% aggregate in maths and physical science, a 65% mark in English and an overall 75% plus pass rate.  
It pays for school fees, books, stationery, uniform, sports uniform and for hosting the learner at a gala dinner/luncheon. 
SANRAL's bursary scheme was initiated in 2007 and caters for students with outstanding academic performance in civil engineering and related studies in the built environment. 
Both scholarship and bursary applications will open in June and close at the end of September 2019. 
For more information on the scholarship and bursary programmes visit www.nra.co.za.