The programme promotes engineering as a career among high school learners who have the potential to study engineering at a tertiary level.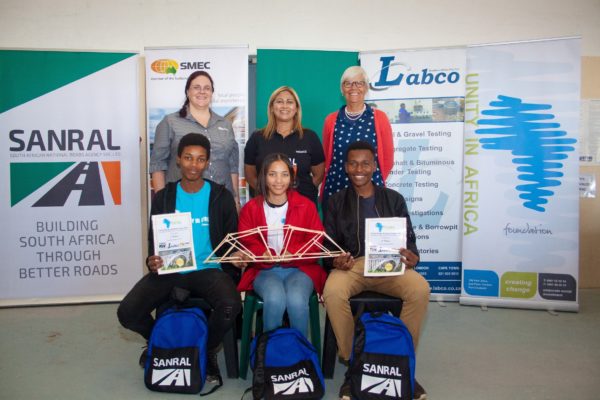 More than 30 academically-deserving Grade 11 and 12 learners from disadvantaged and socio-economic vulnerable backgrounds got a glimpse of the civil engineering industry when they designed and built model bridges as part of the iGEMS holiday programme. 
The South African National Roads Agency (SOC) Limited (SANRAL), together with SMEC South Africa, Labco and Unity in Africa Foundation collaborated in hosting the fifth annual iGEMS bridge building competition, where learners from 16 high schools were taught the skills required to plan and build a bridge.  
The competition was held at the SANRAL's Technical Excellence Academy Laboratory in early July. 
Unity in Africa Foundation run a programme called incubating Great Engineering Minds (iGEMS).   
The programme promotes engineering as a career among high school learners who have the potential to study engineering at a tertiary level. 
Bridge building 
The bridge building competition was one of a series of workshops, site visits and projects held during the July school holiday for the iGEMS learners.    
The holiday programme is part of Phase one in a four-stage 'education to employment' programme, which incubates incumbents for about seven years until they graduate. 
Based on the format and rules on the South African Institution of Civil Engineering's (SAICE) bridge building competition, learners had to design and then build model bridges using only wooden sticks, rope and glue in a limited time frame following functional specifications and construction methods. 
The bridges were judged on aesthetics, weight and structural strength. Strength testing was done using suspended weights that literally stretched the bridges to breaking point in an ultimate showdown between the 10 teams. 
Samkelo Ngobese, a 17-year–old, grade 11 learner from Daniel Pienaar High School, said he is very passionate about engineering and wants to pursue a career in the civil engineering industry. 
He said: "I want to study and pursue a career in civil because of the love I have for building infrastructures and safer roads for motorists." 
Ngobese's favourite subjects at school are mathematics, which he obtained 70% and 78% in physical science and a level 5 in Civil Technology during this June exams. 
"After doing a lot of research, I found that my favourite subjects are core subjects needed for civil engineering," he said. 
Vicarlia Edinberry, a 16-year–old, grade 11 learner at Sanctor High, experienced surprising qualities about herself during the iGEMS bridge building competition. 
"Knowing how to work well with other members of the team was one of the surprising qualities. The competition taught me how to use my listening skills and consider other members' opinions, and that is why we were able to work as a team and develop good communication skills," Edinberry said.  
She further added that civil engineering is interesting in such a way that it enables one to give back to the community and encourages one to do the best to their ability. 
Likhaya Ntshiza, a 16-year–old, grade 11 Molly Blackburn High School learner, said the biggest highlight of the competition was working with his teammates who were focused on building their bridge and who knew how to share different ideas effectively with one another for the bridge to be a success. 
"My team members and I had unique skills on how to build the bridge and everyone shared creative yet relevant ideas for the bridge" he said.  
Ntshiza believes that with the relevant equipment and active team members, he can build a model bridge in future. 
Investing in the future 
"Investing in these high school learners is an investment in our country. Engineering is a scarce skill in the country. If we do not invest in the youth throughout their high school and university studies, we face the risk of not having engineers building and maintaining South Africa's national road network," said Mbulelo Peterson, SANRAL Southern Region Manager. 
Peterson added that programmes initiated by SANRAL to address education and skills development, include among other, awarding of bursaries and scholarships to deserving students all over the country to further their studies.  
In 2018, 41 scholarship and 16 bursary recipients were from the Eastern Cape. The low figure of bursary recipients in 2018 can be attributed to the fact that there was no institution offering a BSc & BEng in Civil Engineering qualification in the province. 
In 2019, an additional four Eastern Cape students received a bursary. Going forward, the number of bursary recipients in the province is likely to increase now that Nelson Mandela University offer a BEng Tech in Civil Engineering degree qualification. 
Other projects SANRAL Southern Region supports is the Science, Technology, Engineering and Related Management/Mathematics (STEM) Fields Pipeline Project in Port Elizabeth, hosted by the Nelson Mandela Bay University (NMU) which help high school learners improve their understanding of maths and science.  
SANRAL's Technical Excellence Academy (TEA) provides engineering candidates with the much-needed training to qualify for registration, which means they are likely to achieve the training outcomes required by the Engineering Council of South Africa (ECSA) sooner than candidates not in a similarly enabling environment.