Jobs have been created and business opportunities in the Rustenburg area are set to improve, thanks to an important project currently underway in the North West province.
Major upgrades to the R24, currently in progress, are intended to improve traffic flow in the area. The road is being widened and improved.
The R24 is currently a single carriageway road and was recently incorporated into the SANRAL network. The road serves as a link between Rustenburg and other nearby towns, providing access to the N4, Rustenburg's industrial area, the Waterfall Mall as well as various smallholdings next to the road.
Rustenburg has experienced significant development and expansion in recent years due to mining activities. Much of the development occurred along the R24, raising the road's status to an urban arterial.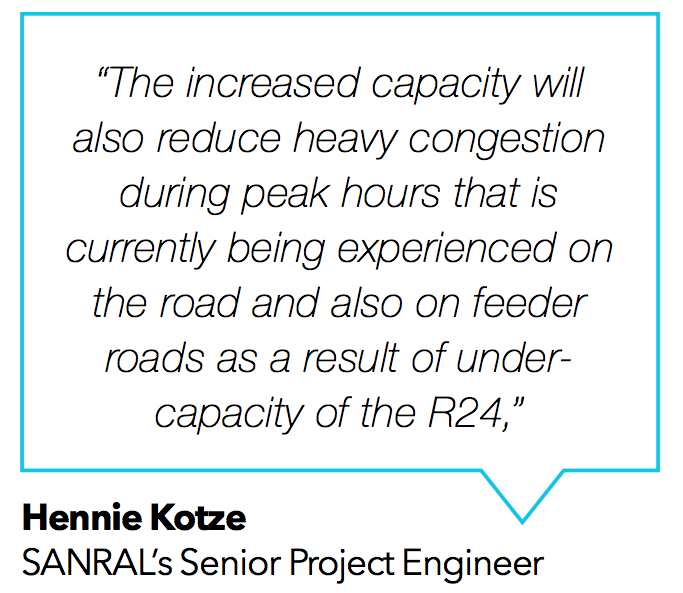 Hennie Kotze, SANRAL's Senior Project Engineer for this upgrade, said the North West province identified the need to upgrade the R24 from a two-lane single carriageway road to a four-lane dual carriageway road because of increased traffic volumes in the area resulting from the numerous developments.
"The increased capacity will also reduce heavy congestion during peak hours that is currently being experienced on the road and also on feeder roads as a result of under- capacity of the R24."
The scope of works involves the construction of new road works, structures and road lighting as well as the rehabilitation of the existing road.
The project started in March 2013 and it is foreseen to be completed in October 2015, at an estimated cost of R194.9 million. The work is being undertaken by Lonerock Construction.
Kotze said as part of the contract, SANRAL requires the contractor to allocate 12% of the value of work to SMMEs and 6% to the employment of local labour – a move which will contribute to job creation and skills development in the area.
These upgrades are done in part to create improved accessibility to adjacent properties, 'businesses and the potential for further development on vacant land which will have a major impact on economic growth in the area.