SMMEs and NGOs from the Thembisile Hani Local Municipality have benefitted from SANRAL training programmes.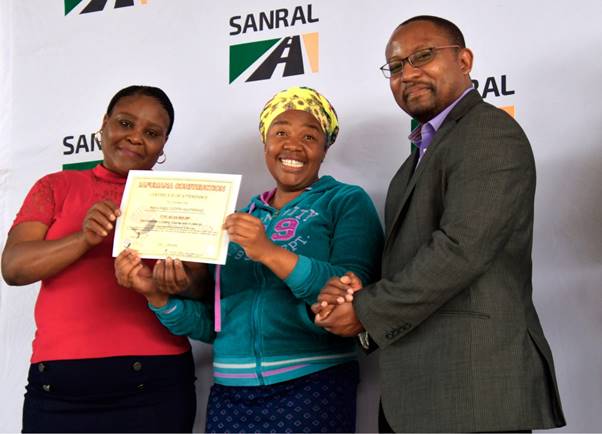 Small, medium and micro-sized enterprises (SMMEs) and Non-Governmental Organisations (NGOs) from the Thembisile Hani Local Municipality recently completed training programmes designed to provide them with the skills they require to succeed in the construction industry.  
In total, 135 SMMEs and 185 NGOs attended the programmes, with the SMMEs placing focus on the process of applying for tenders.  
While working on the Moloto Road project and seeking to partner with locals, the South African National Roads Agency (SOC) Limited (SANRAL) noticed local SMMEs have little exposure to the tendering process, which disadvantages them when responding to bids. 
Supporting emerging-black-owned businesses 
SANRAL Northern Region Manager, Progress Hlahla, said: "If we are going to transform the construction industry, it goes without saying that where we can we must provide emerging black-owned businesses with the support they require.  
"The last thing we want is for a talented organisation to lose out on an opportunity due to their lack of experience and know-how in completing tender documents."  
Participants in the programme were trained in contract documentation, pricing and basic tendering processes, amongst other skills. 
Speaking at the certification ceremony held at Kwaggafontein Hall, Thembisile Hani Local Municipality, Cllr Motanyane, said: "We are grateful for the work SANRAL and Raubex construction have done in training our people. It will give them a ray of hope and bring them closer to opportunities that may arise. We hope this initiative will not stop with this group, but that many communities are able to benefit." 
From death to hope 
Project Manager of section 2 on the road, Nontobeko Mathenjwa, said: "This is a good story for us to tell. Over the years, we have been working on transforming Moloto Road from one of death to one that brings an enhanced livelihood for South Africans.  
"Today, we celebrate yet another ray of hope for the community of Thembisile Hani as their own are certified and ready to take on the construction industry" 
To date, R21-million has been spent on local sub-contractors, SMMEs and local suppliers in the Mpumalanga section of the Moloto Road project, a considerable contribution to the local economy and job creation.  
The R573 Moloto Road is one of South Africa's busiest and essential economic routes connecting Gauteng, Mpumalanga and Limpopo.  
It is part of SIP1, which is designed to unlock the northern mineral belt with the Waterberg as the catalyst. The Mpumalanga section was incorporated into the SANRAL network in 2015 and since then, continued routine road maintenance has been done to improve safety and mobility. 
Approximately R4.5-billion has been allocated to the road upgrade across Mpumalanga, Limpopo and Gauteng over a five-year period.