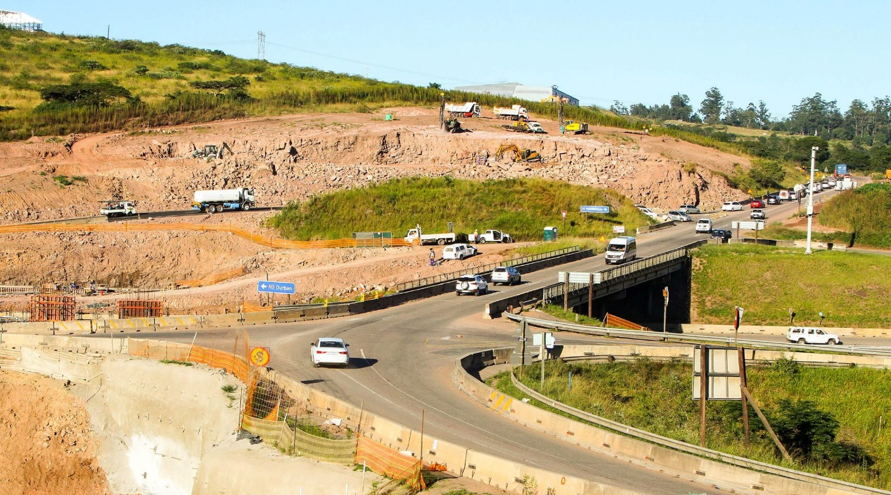 The N2 and N3 carry large volumes of traffic, with a high percentage of heavy vehicles carrying freight to and from the Port of Durban, forming the backbone of South Africa's freight network.  Upgrading of the Hammarsdale Interchange between Durban and Pietermaritzburg is part of Package 2 of the planned Government Strategic Integrated Projects (SIP 2). The purpose of SIP 2 is to develop the Durban-Free State-Gauteng logistics and industrial corridor and strengthen the national transport link between South Africa's main industrial hubs.
The national and provincial importance of the Hammarsdale Interchange stems from its location on the N3 between eThekwini and Msunduzi Municipalities, its proximity to the rail line linking Gauteng to Durban Harbour, and the proposed inland container terminal at Cato Ridge. To fast-track its completion, SANRAL partnered with eThekwini Municipality to co-fund the project.
The simple diamond interchange at Hammarsdale has been upgraded to a semi-parclo (partial clover leaf) free-flow interchange. This includes construction of six new on- and off-ramps. The improved geometry of these ramps demanded significant cutting into the existing ridges, requiring regular blasting activities which became familiar to frequent travellers along the route.
The upgraded Interchange will accommodate the increased volume of traffic resulting from development of the Keystone Park Light Industrial, Warehousing and Logistics Precinct at Hammarsdale as a distribution node for freight logistics companies.