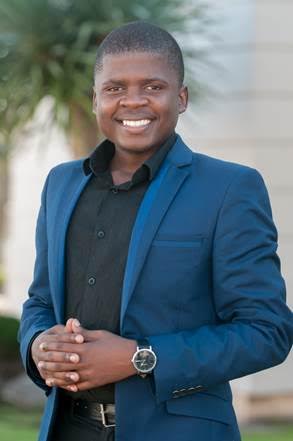 One of six children born to poor but loving parents in the town of Mokopane in rural Limpopo, John Rammutla knows what it's like to grow up in difficult circumstances – but has never allowed this to hold him back.
The newly-qualified civil engineer, who is a Project Manager in Training at SANRAL, believes the youth of South Africa can bring about the change this country so desperately needs – and he is starting with himself.
John, 23, has just organised the second SANRAL-supported South African Youth Leadership Conference, in partnership with Nelson Mandela Metropolitan University student association, Believers Love World (BLW), to inspire the youth to contribute to socio-economic development in South Africa.
The conference, held at NMMU on May 23, was attended by nearly 500 Grade 12 learners from three township schools in Port Elizabeth and 130 NMMU students and working professionals, including SANRAL employees. The conference was also live-streamed to three other universities in the Eastern Cape – Fort Hare, Walter Sisulu and Rhodes.
It followed the highly successful inaugural conference he ran earlier this year in Limpopo, for 1300 university students and learners.
"I'm really passionate about South Africa and its development. As a nation, we have so much potential and talent. Someone has to go out there and exploit that talent and inspire people to act. This is my contribution – to inspire others to see themselves as critical instruments in bringing about social and economic development in South Africa."
John believes there are two main issues affecting South Africa's youth. The first is unemployment, and the second is alcohol and drug abuse. And it is these problems that lead to the majority of the country's social problems, including rape, robbery and violent crimes.
Instead of looking to government for solutions, John believes young people should see what they can do, by becoming business or social entrepreneurs.
"I encourage the learners to start non-profit organisations (NPOs) to improve the lives of others. I encourage them to start their own businesses, to create jobs, and I give them the support they need to do this. Whether you are 16, 17, 19 or 20, you can start a business."
Regarding the problem of alcohol and drug abuse, John says young people should set up organisations to help their peers. "It's easier for a young person to listen to another young person. It's more impactful than listening to a politician and the chances of success are greater."
John said a lack of resources and being over-burdened by responsibilities were often used by the youth as excuses for apathy – but he believes they can achieve despite this, just as he did.
John himself has been a social entrepreneur since school. With a flair for maths and science, he and some classmates used to tutor learners from other schools, due to the shortage of maths and science teachers in the area. "In Grade 11, we were tutoring Grade 12 learners. That's how passionate we were."
Once they matriculated and went to university – John with a full bursary from SANRAL – the group wanted to continue to make a difference to Limpopo learners.
So they started an NPO called "Enlighters Edu-Solutions" and they expanded it to include career exhibitions. It continues to run to date.
This year, John started a second NPO, Hi-Africa, for the purpose of empowering the youth through national conferences and summits. His long-term vision is to run these events across Africa.
He is "truly, truly grateful" to work for a company that is deeply committed to developing communities and leaders, and encourages its employees to do the same. "SANRAL is wonderful. Allowing me to run this project and by sponsoring the events, shows SANRAL's commitment towards nation building."
John said what kept him going was his deep faith, those who support and mentor him and his passion to see the country's youth mobilised to make a difference. "You have to be passionate about what you do, and you have to be committed – then you'll know what to do. You'll get ideas and you'll be inspired to act on them."