Businessman Solly Sebola is cultivating progressive relations with business forums and assisting black businesses to participate in projects.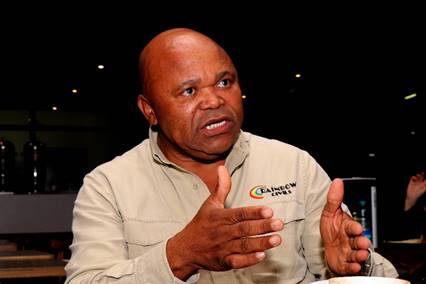 If you can't fight them, get them to join you. That was the unusual approach by Solly Sebola when confronted by business forums reputed to employ thuggish methods to threaten large construction companies and workers to get contracts. 
However, Sebola, founder and MD of Cape Town-based Rainbow Group, one of the country's biggest 100% black-owned construction companies and which has several contracts with the South African National Roads Agency (SOC) Limited (SANRAL), said the forums are not entirely to blame. 
He thus recently took it upon himself to walk into a veritable lion's den and hold discussions with business forums that have shut down building sites, demanding jobs or a slice of the profits. 
Changing lives for the better 
Sebola has engaged with KwaZulu-Natal's three biggest business forums – Delangokubona Business Forum, Umkhonto we Sizwe Military Veterans' Association and Vukuzakhe – and has provided work opportunities for 17 grade one civil engineering sub-contractors belonging to these organisations and who employ 119 people. 
"We have commenced business development training for the sub-contractors and engineering skills development training for the employees at our various roadworks sites. 
"When I recently interacted with the sub-contractors and employees, it was so touching to listen to them relating how their lives have changed for the better since landing jobs," said Sebola, adding that the business forums were "impatient and hungry for contracts". 
Empathy for the unemployed 
Sebola understands only too well the pain and hardship of being unemployed and can, therefore, empathise with the demands on construction contracts. 
In his early years, Sebola who was one of nine children, struggled to find work. 
When he landed a job as a cleaner at Cape Town International airport in 1992, it was the humble beginning of a great future. He was soon promoted to supervisor and then to operations manager.  
Eventually he caught the eye of an Airports Company South Africa (ACSA) regional manager, who encouraged him to strike out on his own. 
Sebola, who had studied business management, registered his own close corporation, attended a course at the Small Business Development Corporation and successfully tendered to clean Metrorail trains at Bellville and Strand. 
Eight months later he landed a three-year contract to clean aircraft at Cape Town and Port Elizabeth airports. 
In 10 short years, Sebola has built the Rainbow Group into a successful business that empowers thousands of people at its various subsidiary companies. 
The company employs 2 000 people on contracts it has landed with SANRAL to maintain national roads in almost all the provinces and has a road-marking division. 
"When I sought contracts, I first made sure I was fully compliant. I did not go about banging on doors demanding contracts. 
"It is important that sub-contractors who seek work from SANRAL realise the importance of obtaining training in the tendering processes, including quality in construction, contracting and documentation." 
Giving knowledge 
Sebola, a father of three, said he has made it his philosophy to always train a smaller sub-contractor when he is working on projects. 
"Education and training are key to alleviating the unemployment problem in the country. That is why when I recognised the frustration of the business forums, I committed to do something about it. 
"There is a misconception by business forums and local communities that the new treasury regulations automatically entitle them to 30% of the work on projects in their areas. 
"These groups did not want to participate in any formal tendering process. However, I am slowly getting the business forums to change their thinking and to refrain from work stoppages," said Sebola, adding he wished more big contractors would give emerging businesses a chance. 
"My company's mission is to empower people by offering them fair remuneration, coaching and mentoring in exchange for honest labour," he added. 
Sebola's company has also adopted SANRAL's 14-point plan to deal with the new dynamic at its sites that have appointed project liaison committees (PLCs). 
These principles are applied to facilitate better project level liaison with local communities and structures. They also serve to ensure communication and transparency in the execution of works, and to ensure inclusivity in the allocation of projects to benefit black business and local communities. 
SANRAL CEO Skhumbuzo Macozoma praised Sebola's efforts to cultivate progressive relations with the business forums and thus assisting black businesses to participate in projects. 
"Sebola has shown that it is possible for transformation and empowerment to happen in the industry, only if people are willing to acknowledge our past and seek a different future," said Macozoma. 
"I thank him for his visionary leadership in agreeing to partner with us in accommodating the plight of black businesses that are disadvantaged, unskilled and without capital, driven only by a hunger to get equal access to economic opportunities in South Africa. 
"At SANRAL we continue to strive to find the right balance between enabling black business participation in our projects through our transformation policy and condemning criminal activities at our project sites," he said.