Bell Equipment has handed over equipment to an emerging Gauteng construction company, a first of many to come.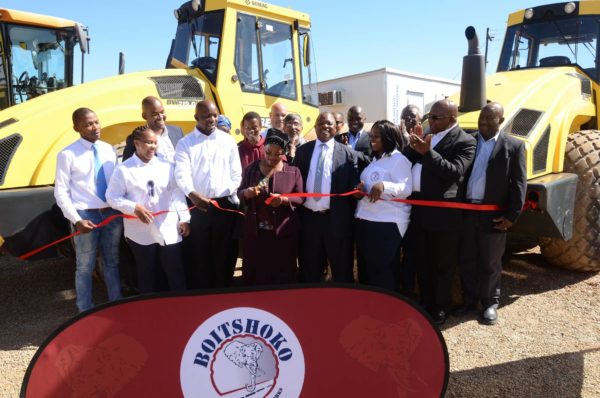 The South African National Roads Agency (SOC) Limited (SANRAL) and earth-moving and equipment manufacturer, Bell Equipment, have joined efforts to ensure easier access for developing black women, youth, disabled and military veteran-owned businesses in the road construction industry through a monumental agreement. 
Bell Equipment handed over equipment to Boitshoko Road Surfacing and Civil Works, an emerging Gauteng construction company, on 6 August. 
A Memorandum of Understanding (MOU) signed by Bell and SANRAL in July was the catalyst to the agreement between Bell and Boitshoko for the provision of the equipment they required and that was tailored to their needs. 
Removing barriers 
The partnership aims to give contractors access to earthmoving machinery that will enable black business owners to compete for and participate in major construction projects.  
In an attempt to level the playing ground, the agreement allows black-owned contractors various resource options such as financing facilities, renting and leasing opportunities. 
SANRAL's Transformation Manager, Ismail Essa, said: "SANRAL and Bell noticed a major entry barrier for emerging businesses in the construction industry, where one of the biggest challenges contractors face is access to funding – the correct people with the right expertise and sophisticated construction equipment.  
"This agreement will expose CIDB contractors not only to machinery but finance, training and maintenance services." 
This comes in response to the financial and physical resource disparity experienced by small businesses owned by previously disadvantaged individuals. The partnership between SANRAL and Bell now grants small contractors easier access to plant equipment. 
Government and business working together 
Reflecting on what this agreement means for his emerging business, MD of Boitshoko, Dr N Phillip Makume said: "When my father, Albert Makume, started this company 24 years ago, he did so courageously, even though it was a struggle to own these important tools of our trade.  
"With this new relationship and with Bell and SANRAL's support, we feel blessed to now have the ability to compete meaningfully in this challenging road construction industry." 
Boitshoko Road Surfacing and Civil Works is a 100% black-owned CIDB grade 8 CEPE road rehabilitation, maintenance and construction company based in Mafikeng. It has created around 20 000 job opportunities to date and employs 145 permanent staff. 
Duncan Mashika, MD of Bell Equipment Sales Africa, said: "This equipment handover is a great example of how government and business can work together to build a better South Africa for all.  
"For us it goes beyond manufacturing and selling machinery but rather, it's about building great relationships that respond to the industry's need for transformation." 
Real transformation 
In recent times small construction businesses have found themselves under immense pressure due to the limited amount of work for which they can tender.  
In line with its Horizon 2030 strategy and the national development plan, SANRAL is engaging various stakeholders to find ways and means to empower SMMEs to grow into larger industry players. 
Essa said: "Transformation goes beyond policy, it requires the active mobilisation of all sectors of our economy to enable SMMEs to participate more meaningfully in major construction projects.  
"The private sector plays a pivotal role in this process and we are proud of the partnership we have entered with one of the continent's largest suppliers of construction equipment. This will have a colossal impact in breaking down the barriers to entry for smaller business owners."