The current slow rate of economic growth and lack of job opportunities calls for urgent measures to be taken to nurture small, medium and macro enterprises (SMMEs) as a means of bolstering this relatively underdeveloped sector of the South African economy.
The development of SMMEs forms part of SANRAL's broader socio-economic development strategy.
An example of a thriving SMME in Limpopo is Expectra 388 cc.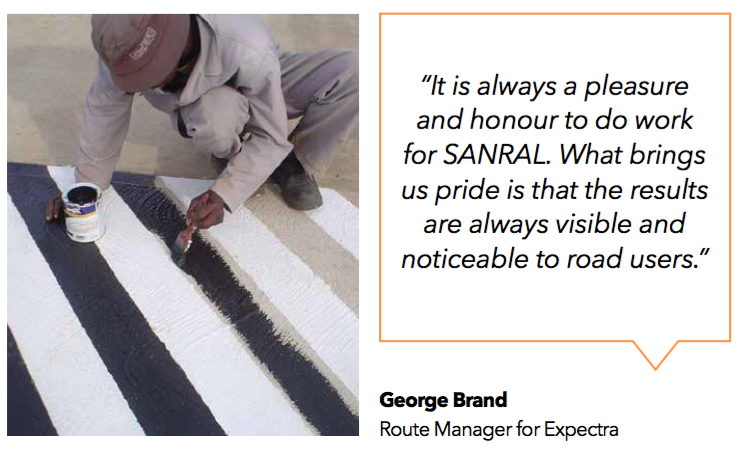 It is mainly responsible for Routine Road Maintenance (RRM). The company is currently doing all the maintenance on the road from Polokwane to Burgersfort. Over the past six years, Expectra has done work worth R17 million.
In the past year alone, it carried out RRM work worth R3.7 million.
The company has also invested heavily in the training and development of its employees for current and future employment opportunities.
---
Some of the training that has already been offered to its workers include:
– Road Traffic Management
– Basic Fire Fighting
– Occupational Health & Safety
– Stone Pitching
– Installing Gabions & Reno Mattresses
– Level 1 & 2 First Aid
– Erecting and Maintain Guardrails
– Aids awareness
Expectra is also involved in corporate social investment in the province, such as the refurbishment of the Thabong Drop-in Centre in Mankweng. It is an after-care centre that caters for young children between seven and 14 years old in the area, run by one woman – Paulina Letsoalo – with the assistance of a few community volunteers. They feed the children and provide a safe place for them to go to after school where they can do their homework and get a meal – sometimes the only meal they get for the day.
The refurbishment project entails the construction of an entire playground, a soccer field as well as a netball court and six toilets. Further work will include fencing around the property, starting a vegetable garden, planting of grass and trees. All these will ensure that the centre provides a homely environment to the children it was established to assist.
George Brand, Route Manager for Expectra said:
"It is always a pleasure and honour to do work for SANRAL. What brings us pride is that the results are always visible and noticeable to road users."
The company also supplied the centre with a 10 000 This SMME sources all of its local labour entirely from the litre water tank, tables and chairs as well as constructed George Brand Route Manager for Expectra communities along the routes it services.