The South African Institution of Civil Engineering visited agency to engage with a broader spectrum of its members.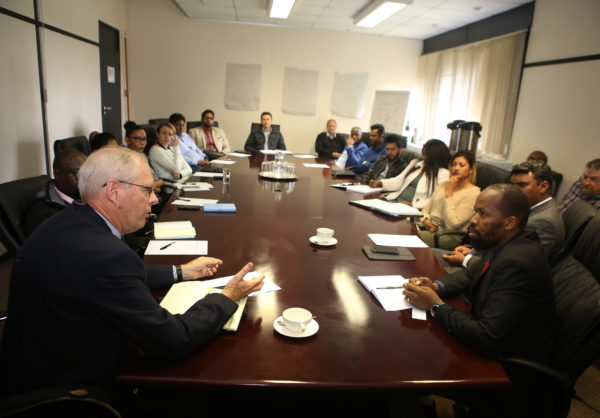 Top executives of the South African Institution of Civil Engineering (SAICE) recently paid a courtesy visit to meet with professional engineers at the Eastern Region offices of the South African National Roads Agency (SOC) Limited (SANRAL) in Pietermaritzburg.
Dumisani Nkabinde, SANRAL Eastern Region regional manager, warmly welcomed SAICE president Errol Kerst, SAICE CEO Manglin Pillay and Nadeena Le' Tang, the institution's public relations officer.
SAICE's mission statement declares that it aims "to advance professional knowledge and improve the practice of civil engineering. The body strives to be a learned society for all those associated with civil engineering and to enable its members, through consultation and accountability, to provide the community with environmentally and economically sustainable infrastructure."
'Red letter day'
During its 20-year history, SANRAL has received numerous SAICE awards for excellence in various categories of civil engineering.
These include awards for its Intelligent Transportation System (ITS) in KwaZulu-Natal; the Dr Chota Motala Interchange in Pietermaritzburg, the Tshelimnyama and Blackburn Pedestrian Bridges and the Mt Edgecombe Interchange north of Durban.
Referring to the visit by the SAICE executives, Nkabinde said it was a "red letter day" for SANRAL Eastern Region as it was the first time SAICE had met with the team of engineers. He hoped this would be first of many meetings.
Civil engineering club
Kerst said SAICE was on a drive to engage with a broader spectrum of its members and encourage them to attend SAICE events.
"We want to get the whole civil engineering club going again. Any country revolves around civil engineering and we are there to serve the public through roads, bridges storm water drains and sewerage systems."
Pillay said SAICE was home to more than 10 000 civil engineering practitioners from all avenues of the built environment, including lecturers at all universities and places of learning that offer civil engineering.
"Our members work in the private sector, mainly in consulting and construction, and in parastatals including Eskom, Transnet, SANRAL, PRASA and others."
He said more than 45% of SAICE's membership is black.
Considering South Africa's history before 1994, Pillay said: "A more accurate measure of transformation is found in that almost 70% of SAICE's membership under the age of 36 is black.
"The engineering sector still has more work to do on racial transformation, but the current actual numbers show remarkable progress in the built environment."
Pillay added that it must be considered that it takes on average eight years, not including the 12 years of basic education, for any individual to accumulate the necessary education and training before they are ready to register as professionals.
"There is no quick-fix solution, but we can build on the existing successes," he said.