Connecting two communities, increasing pedestrian safety, building the local economy, making travel easier for tourists. These are the benefits of the upgrading of the Pacaltsdorp Interchange.
This comprises the widening of the existing interchange bridge and the two-lane York and Beach Roads to convert it into a dual carriageway four-lane road with turning lanes at both ramp terminals at the interchange, the construction of sidewalks and a traffic median island, rehabilitation of existing asphalt surfacing and relocation of traffic signals, provision of street lighting and replacement of road markings and road signs.
"With the approaching holidays, when many South Africans will be travelling, the direct user benefits of this necessary upgrade are reduced travel times and fuel consumption, increased reliability, and increased safety for motorists.

SANRAL, in partnership with the provincial government and George Municipality, have uplifted the community, not only creating on-site work opportunities amongst SMMEs but also providing greater security and safety for residents in the area.

The pedestrian bridge connects the new residential area south of the N2 which with the George industrial/ commercial area on the northern side of the N2 greatly improves safe access to work opportunities."
One of the major benefits of the new pedestrian bridge is that it provides a safe point for pedestrians to cross the N2. Residents of Pacaltsdorp also won't need to pay for transport to get them to work – they can now safely cross the N2.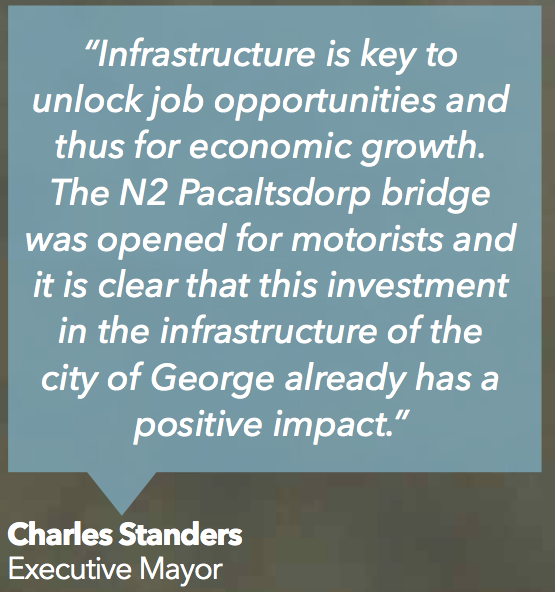 A new paved walkway with lighting is provided on each approach to the pedestrian bridge for approximately 1,500m along the N2. Lynn Jansen, a resident of Pacaltsdorp, said she and the community are excited about the new pedestrian bridge.
"It is great to have a safe way to cross the N2."
Alister Twigg added that the pedestrian bridge now links Pacaltsdorp with the industrial area on the other side of the N2 where they work.
"It is a very, very good thing."

Local labour was used and training was provided in steel fixing, scaffolding, application of basic concrete skills, laying of kerbs and channels and flagmen skills. Non-accredited training in the application of cable stressing was given to five workers by the company which undertook the stressing of the bridge deck.
Supervisory training was given to one subcontractor and three workers of the main contractor. A young engineer-in-training seconded to the site by George Municipality, attended a bridge structures course in Cape Town.