Locals are safer and can connect easier with the completion of access roads in Lusikisiki.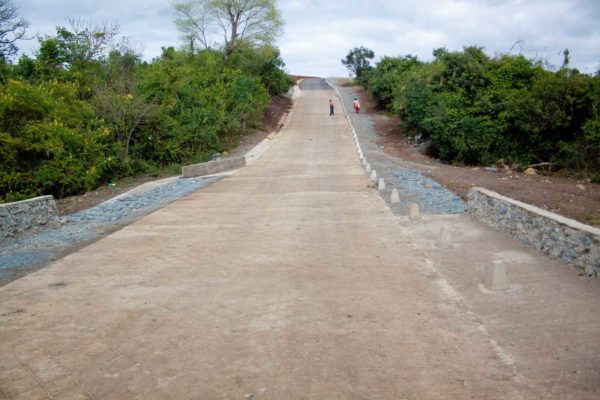 The South African National Roads Agency (SOC) Limited (SANRAL) has completed community access roads and haul routes increasing safety for pedestrians and motorists travelling between two villages in Lusikisiki. 
The completed roads also connect two municipal wards and traditional areas managed by two Chiefs. 
SANRAL's 24-month project provided training for 11 SMMEs and 11 supervisors of which 73% were youth-owned SMMEs and 36% were women-owned SMMEs. 
In addition, 165 jobs were created, and training was given to 165 employees, who were subsequently awarded NQF Level 2 certificates. 
Mbulelo Peterson, SANRAL Southern Region Manager, said: "This project forms part of SANRAL's Community Development Programme, which promotes safe movement for all road users, as well as community mobility through infrastructure upgrades and safety improvements. 
"The new road network – three separate but connected roads – will allow the community to travel safely from the rural areas to the interchange of the future N2 Wild Coast Road." 
The project 
Old gravel roads and earth tracks were upgraded. The scope of work included the construction of 4.5-km of cape seal-surfaced road with concrete at sections with steep gradients; building v-drains; manufacturing kerbs and bollards; construction of box culverts; and upgrading access and parking area at two schools and an FET College. 
The road passes two large, well-established schools. Access by vehicle as well as safer pedestrian traffic will be offered by the new road and sidewalks. 
SMMEs with catering businesses also benefitted from the project and the structure that was built for training is now being used by the community and schools. 
"The group of trainee contractors are all keen and should develop into future potential contractors," said Gcobani Socenywa, SANRAL Southern Region project manager. 
The kerbs and bollards were manufactured on site. The kerbs were tested at Controlab in East London and passed the requirements for the SABS 927-1969.  
Peterson said: "Passing the SABS requirements is an indication of the training and quality control on site. 
"Despite the community's initial scepticism about the project, now that it is completed they are happy about the roads." 
More community development 
Further to SANRAL's community development initiatives, former Umkhonto we Sizwe Military Veterans were also employed as security guards on the project. 
Siphelele Msindwana and Lindiwe Nokhele formed Gandundu Nkungu JV on the project and worked on a 700m section of the road. 
Msindwana and Nokhele manufactured more than 3000 kerbs and more than 400 bollards, which were used on the project.  
They also built v-drains and two box culverts (small bridges) that connect Mcobotini and Goso villages. 
"The culverts are built at areas where the river overflows on to the road, thus making it difficult for people to cross, especially students who have to attend school. We supplied the entire programme with kerbs," said Msindwana. 
Msindwana and Nokhele look forward to growing their business.  
Msindwana said: "We complement each other, and our experience will carry us forward. We hope we will upgrade to CIDB level 4 CEPE or CIDB level 5 CEPE. 
"We have been tendering for work. The town is busy developing and we hope to be established business owners by then. The main challenge is competing with large, developed manufacturers." 
Andiswa Joyi and Siyanda Mredlana formed Khubega JV.  
Joyi said: "At first the community did not want us to do the work, but now that the work is done they are happy with the roads. 
"Before working on this project, I was unemployed. I am happy that I got an opportunity to work on this project. My goal is to work on the N2 Wild Coast project." 
Mthobeli Biyela was appointed as a public liaison officer (PLO) on 18 July 2016. He completed his N6 in Management Assistant at the Ingwe TVET College. 
"Before this project I was unemployed and today I own a car and can provide for my family. We used to depend on my mother's pension and child grant. As the PLO I was appointed to work with Chiefs, Councillors, SMMEs and communities, talking about the project and the work being done on the community access road being built in Lusikisiki," Biyela said. 
Additional training 
It was not easy to find a locally qualified safety officer in Lusikisiki. SANRAL eventually found someone who ran her own safety officer business locally, although it was not registered. 
Peterson said: "We assisted her in completing her application to be a registered health and safety officer with the South African Council for Project and Construction Management Professions (SACPCMP). We also registered her with the South African Institute of Occupational Safety and Health (SAIOSH) as a technical member. This gives her access to further training, information and updates and other opportunities.  
"During the project she worked on site as the safety officer under the guidance of the Safety Manager (Construction Manager on site). Four other residents also received training in health and safety." 
Peterson added that the additional aim of the project was to deliver the outcomes in such a way that as much as possible of the total economic spend on the project remained within the community and to input as many skills as possible into the community.